It was a lovely day in Manhattan, a great day for a block party....held by Nintendo.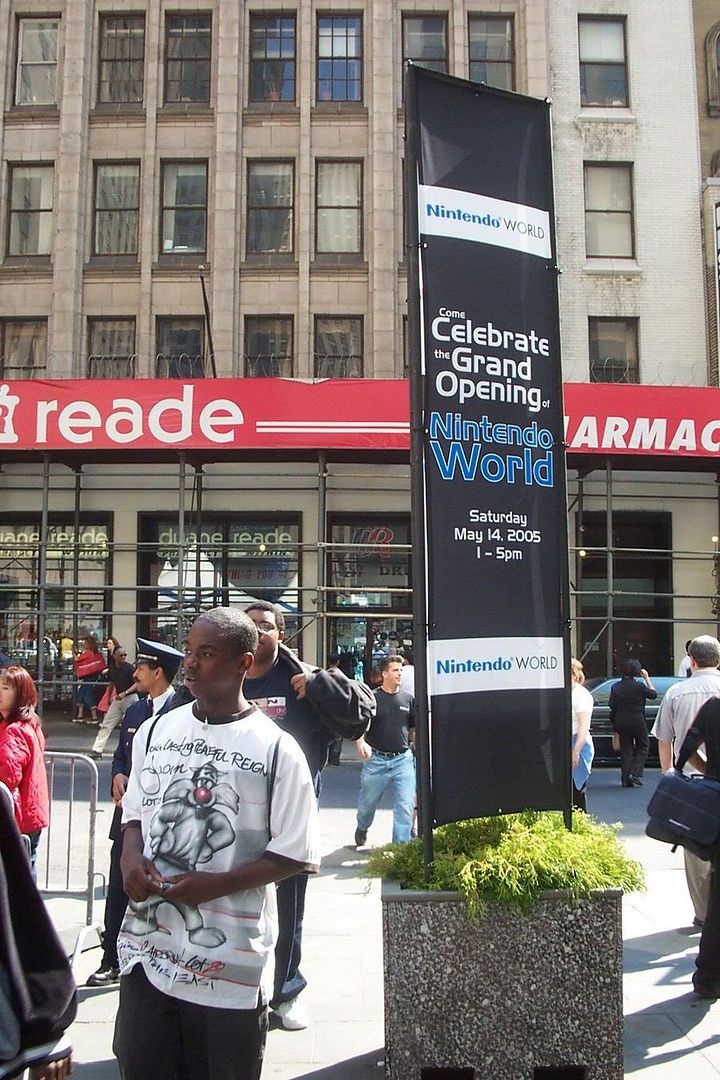 It wasn't a huge block party, but to give you an idea of where it was, it was in Rockafeller Center, close by the skating rink you usually see on TV, near the place where they put that huge tree in every Christmas that you also usually see on TV, and not far from NBC studios. As that banner said, it lasted from 1 to 5 PM. I entered the city around noon, enough time to grab lunch before going.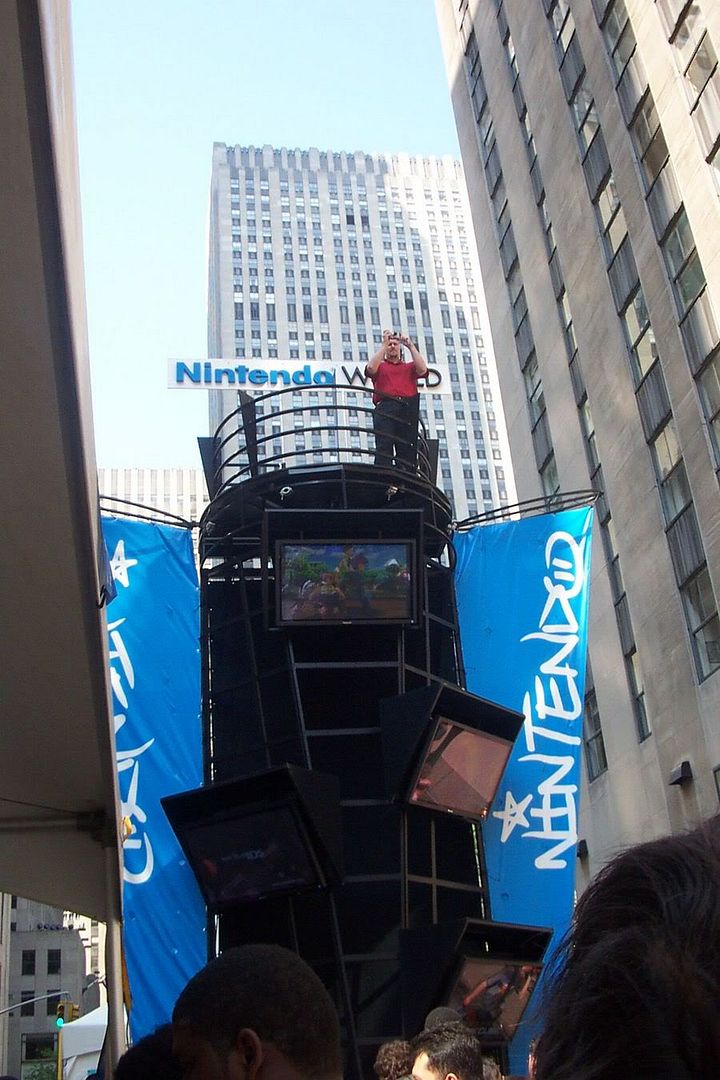 There was a huge tower in the middle of the street, seperating the regular Nintendo part of the block from the Pokémon area of the block, which I wasn't around.


There were many Gamecube Kiosks featuring various games, at least 15. There were DS and GBA SP kiosks as well. A few of the GCN and DS Kiosks were around and inside this vehicle.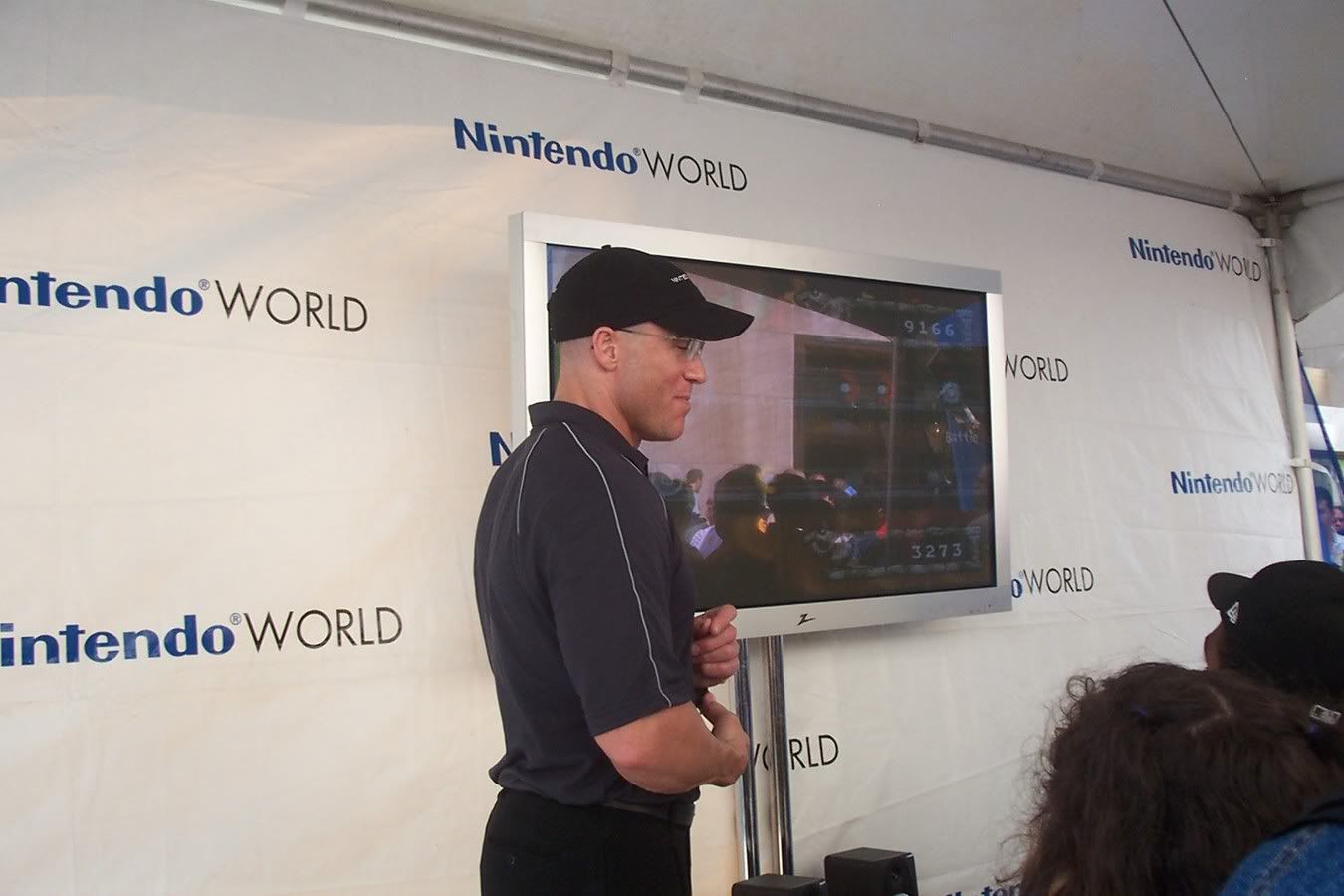 The game featured in the contest was their most recent, Donkey Konga 2. The man in this picture is explaining the rules to the little children (and me).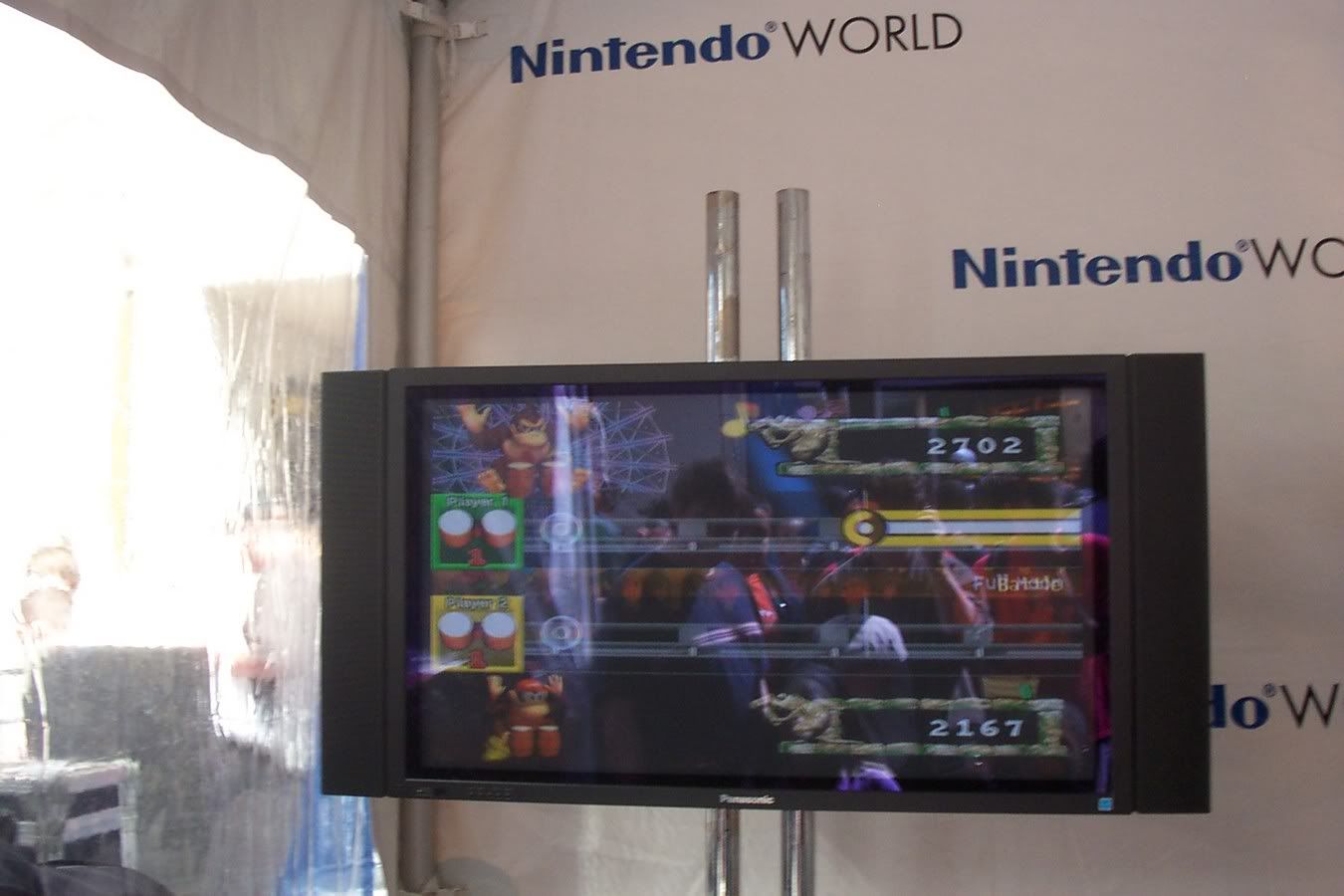 Different Kiosk, where people practiced the game. Next to it was a registration center for their bi-hourly raffle.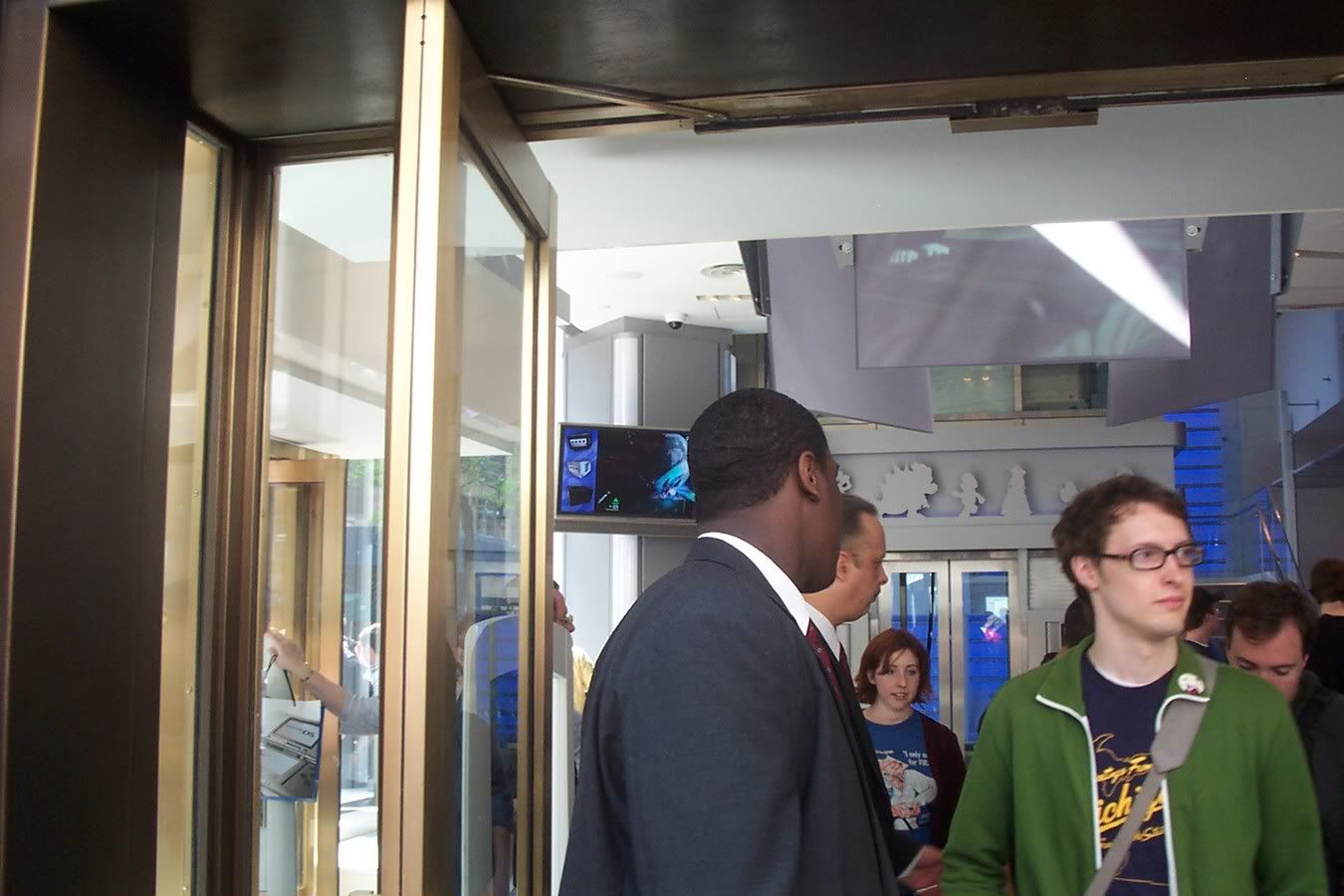 After seeing enough of the party, I went to go inside the store. This was the exit...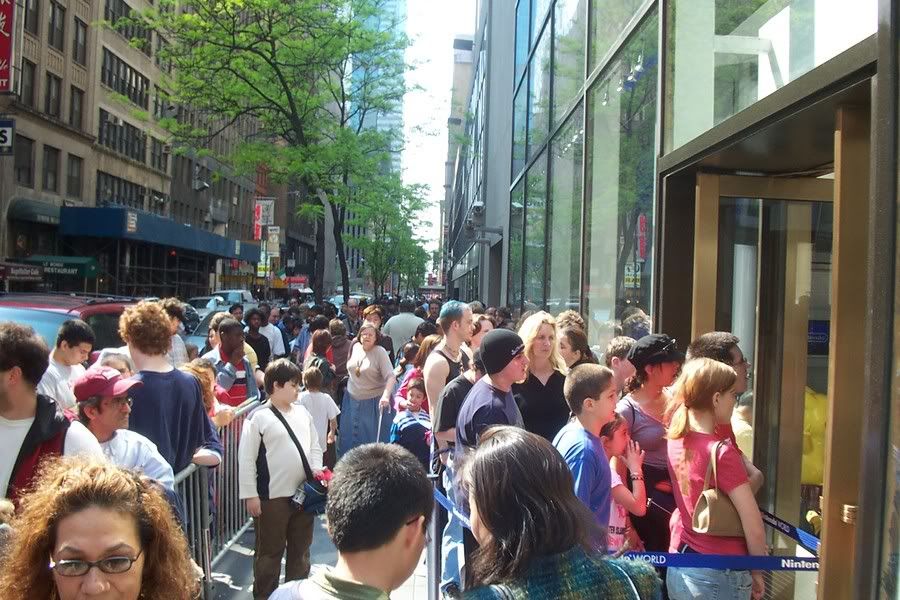 ...This was the entrance.


I waited in that long line. Fortunately, the line actually moved a few feet every 2 minutes or so.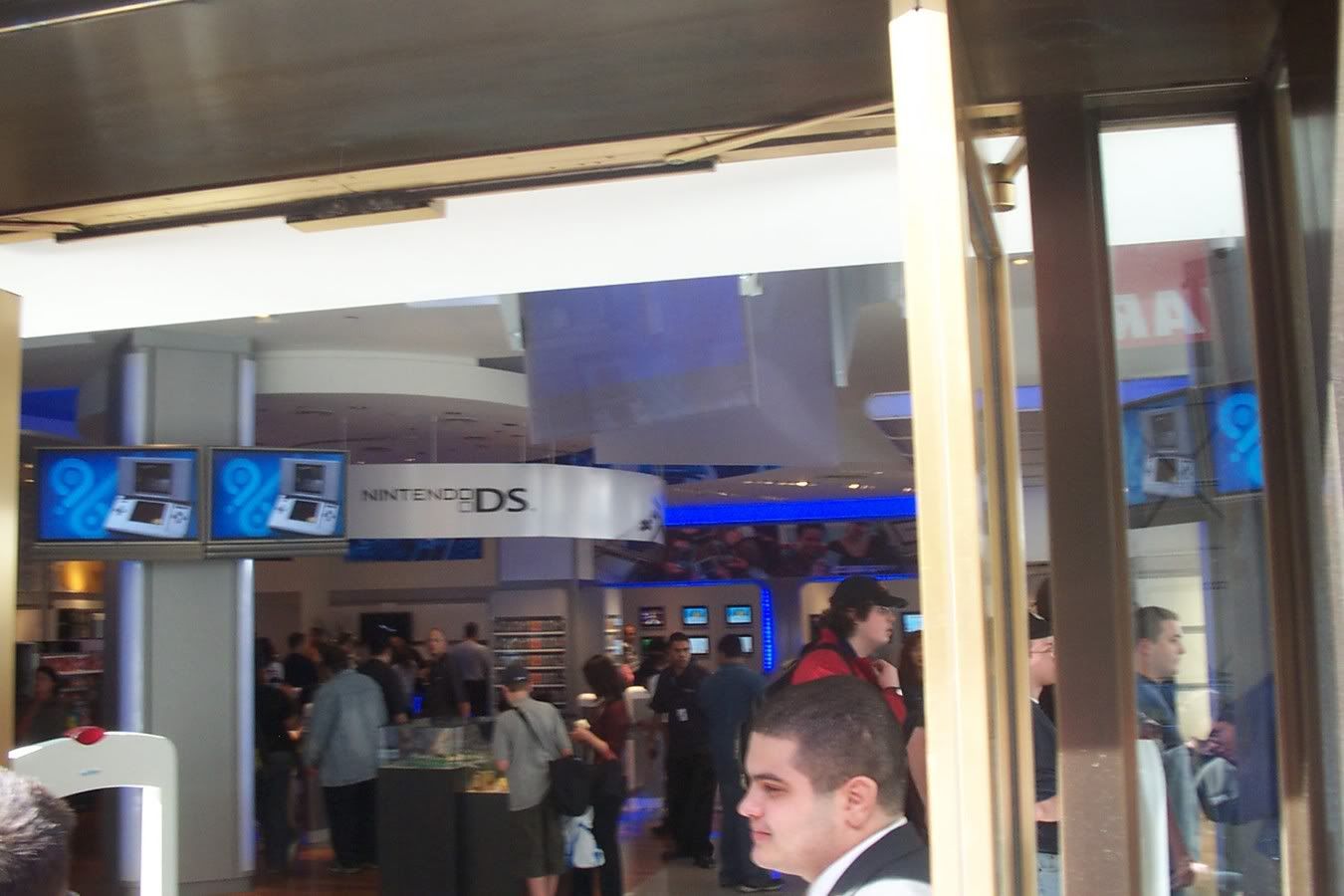 When we got closer to the entrance, my father decided to take a picture of the DS section.


As we entered, we immediately went up to the second floor via elevator. A staff member was telling a small child to look out the window as we went up. We looked out the window to see that huge vehicle and DS kiosks out the window.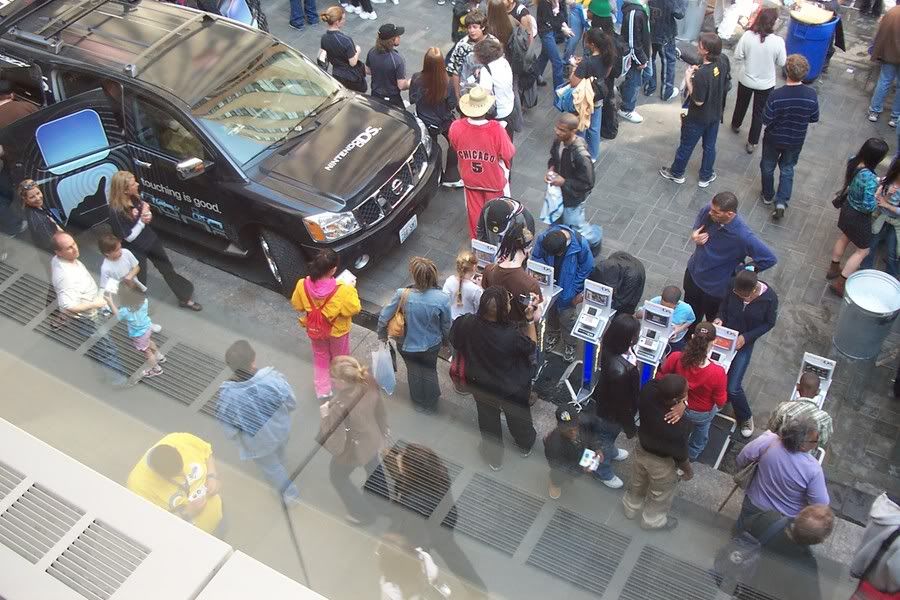 We looked back and saw various GCN kiosks, about as many as there was outside.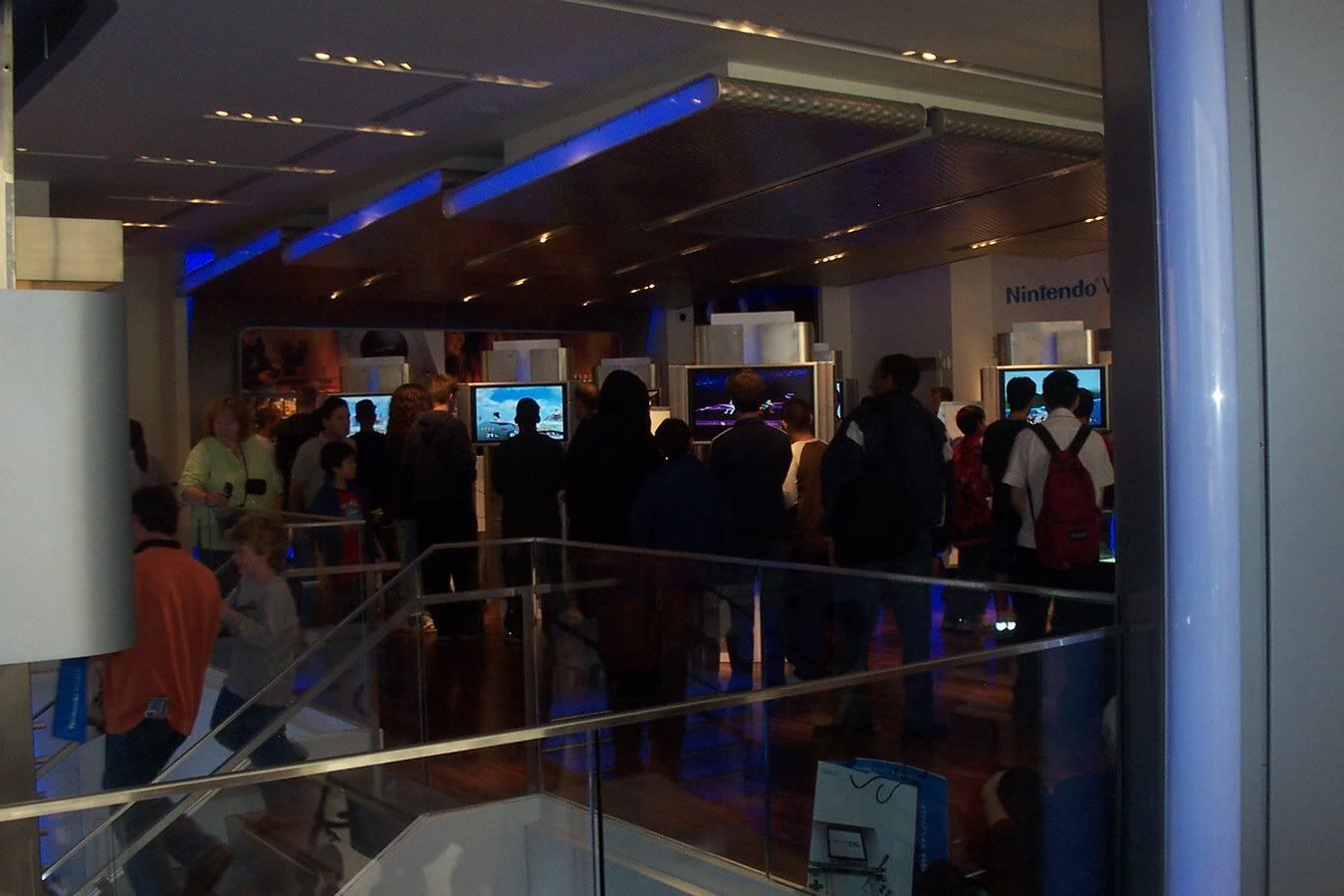 I went up to a free one (as did two other eager fans) and played some Melee.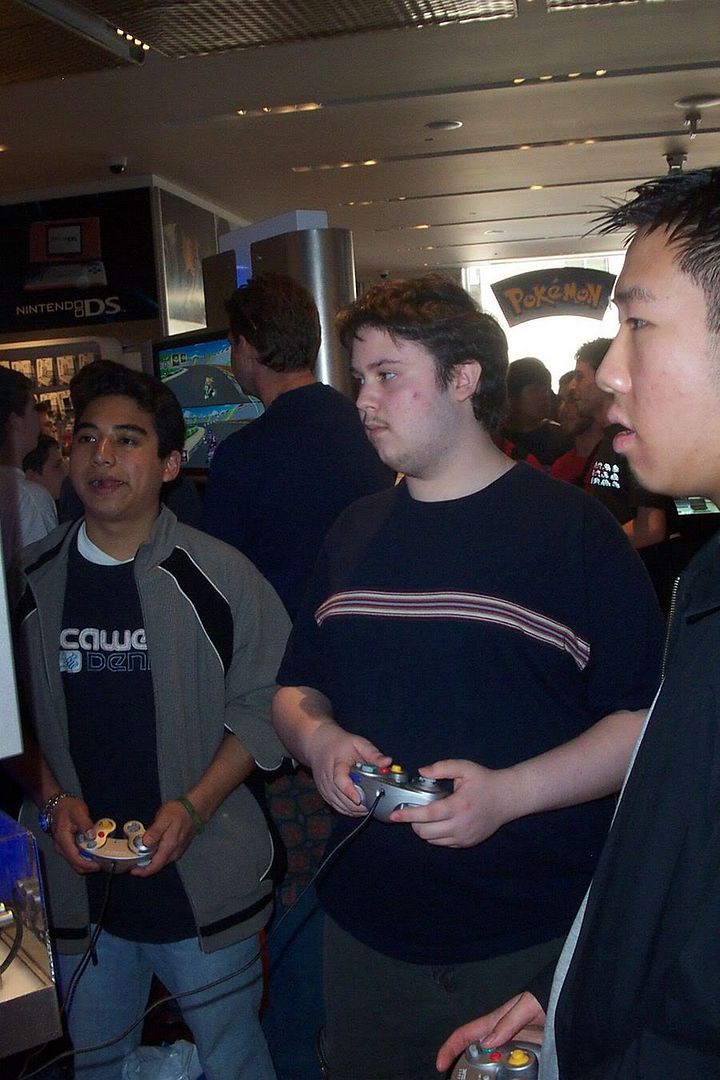 When I finished, I went over to the display cases to see special things.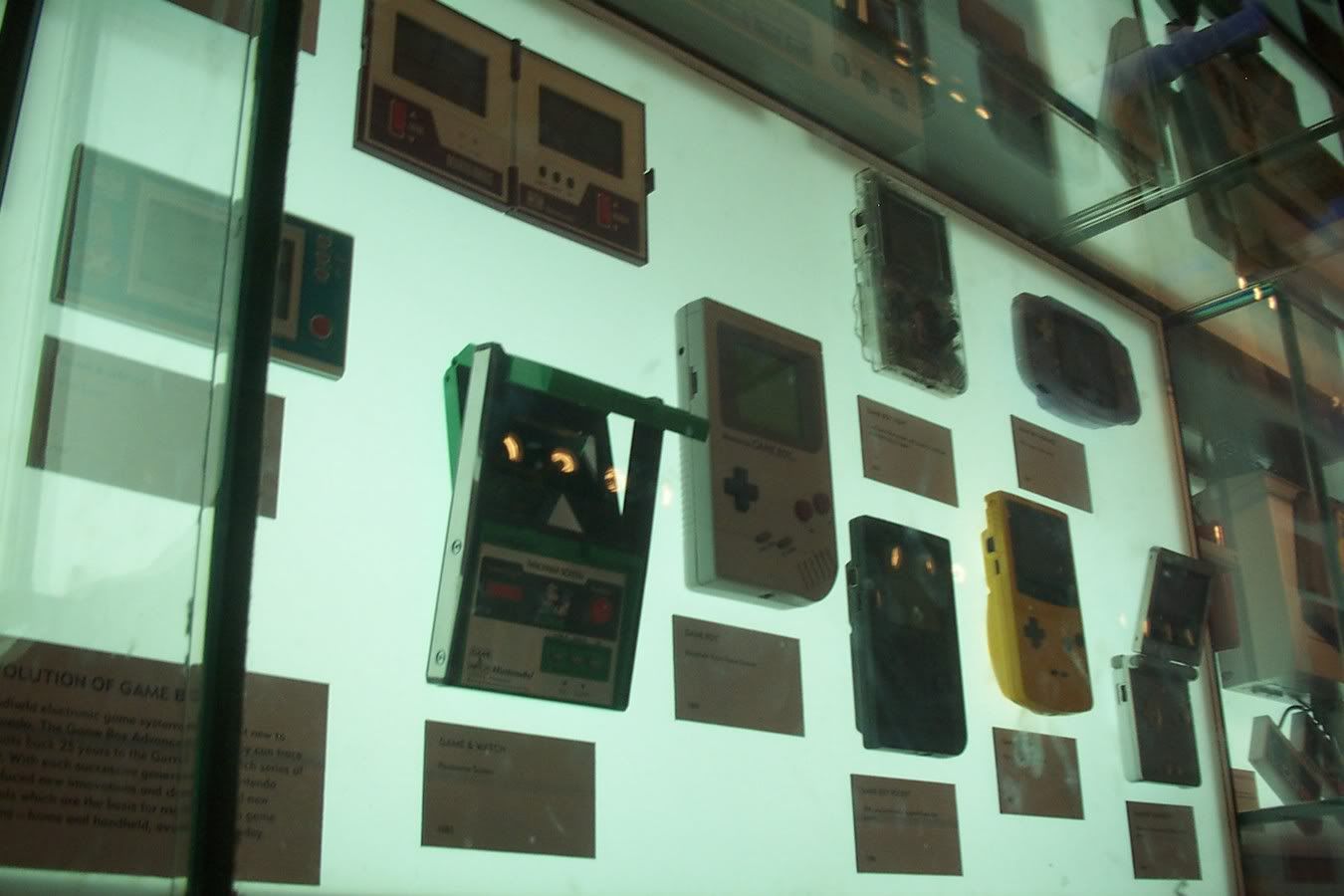 This one was supposedly a case showing the history of Nintendo's handhelds, from the original Game & Watch to the GBA SP.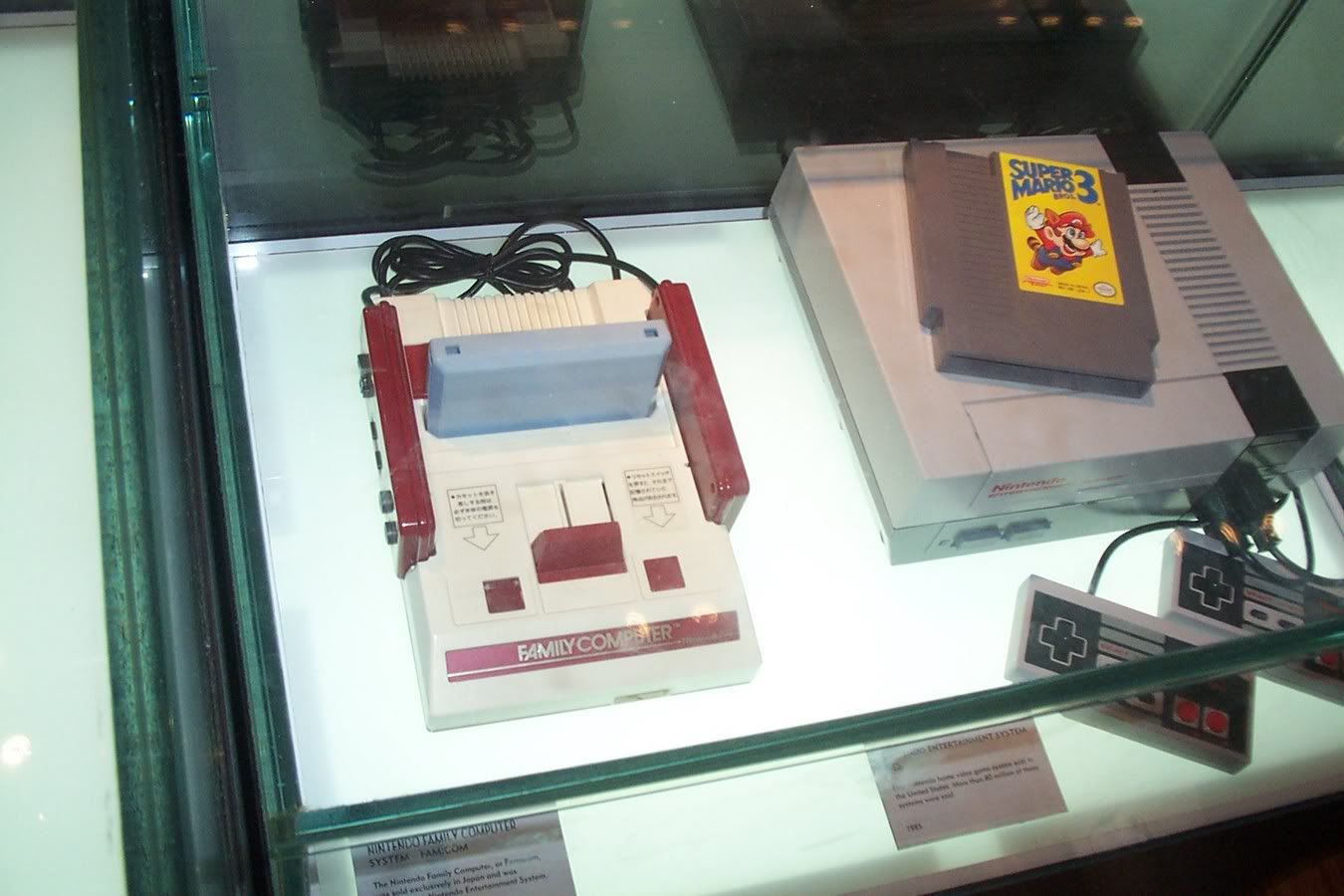 The original Nintendo Famicom, next to the NES.

Unfortunately, there were other great things I didn't get a picture of, like various special colors of the GBA SP, that had designs on them, including the ones that looked like the NES and Famicom controllers, and one that had the Triforce on it. Also, there was a case showing the original Hanafuda cards made back in the late 1800's.


As we left, we took a picture of the elevator, which had silhouettes of Nintendo characters (mostly Mario ones).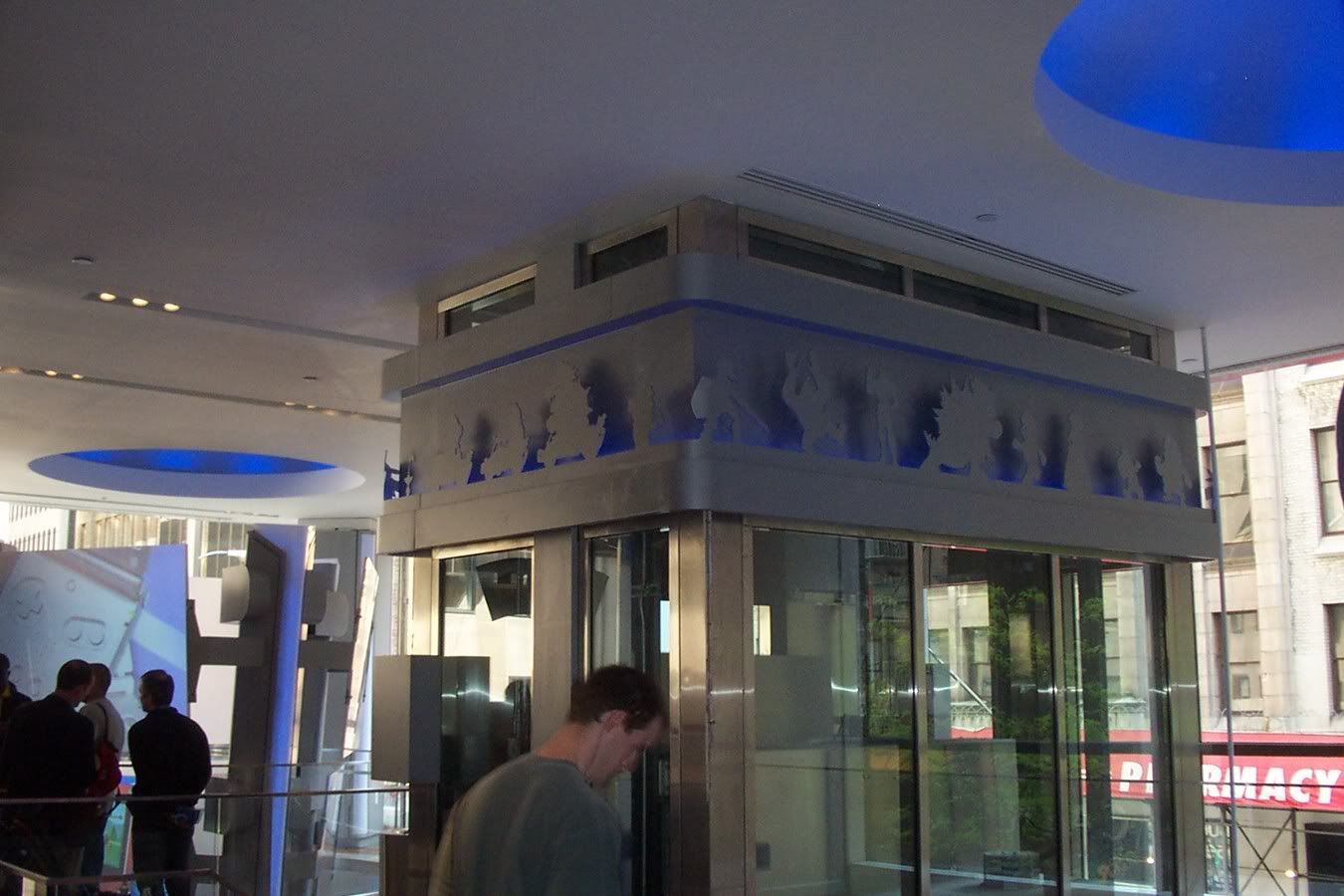 It was a great day for me.
Does anyone know if Jay Leno or Conan will talk about this killer new store since it opened so close to NBC studios? I would love to see someone take a tour of the place in a humorous way.
The Tonight Show isn't filmed in New York. It's filmed in California. As for Conan, I don't think so.


Heh, this'll probably make you even more jealous, I've got tickets to see his show next month.


Heh I was there too yesterday. I was visiting my half brother in Manhattan and we stopped by the Store. We couldn't stay there too long, but it was still very cool. Remember the line to get the Mystic ticket for Pokemon FireRed, LeafGreen, and Emerald? Crazy! Luckily, I didn't have to wait on the line. I just snuck behind the guys giving out the ticket at the booth and got them that way (one for me, for my sister, and for my friend).


Oh, really? Seeing as I don't know what you look like, I didn't see you. Unfortunately, I didn't go to the line for the mystic tickets. I'm not very interested in Pokémon, so I tried to stay away from that section.

Edited by - Vidgmchtr on 5/15/2005 11:15:53 AM
I'm taking a field trip to NY on Friday, but sadly without a doubt I won't be able to visit the Nintendo World Store.



"How ironic; 'Rogers' – it almost rhymes with... 'eliminate.'"
~Stewie from Family Guy