Donkey Kong's Fuzzy History
Specials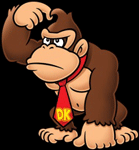 If you're a Nintendo fan, or a fan of video games in general, you most likely know the story of how Shigeru Miyamoto created the hit arcade game Donkey Kong. However, like many gamers, you may be wondering, "When was Donkey Kong released, exactly?" Or, "Where does Donkey Kong's name come from?" Or, "Who else worked on the game?"
Despite being arguably Nintendo's most pivotal game release, some of Donkey Kong's early history is clouded in conflicting information, forgotten facts, and urban legends. In honor of DK's 30th anniversary, we'll try to clear up some of the confusion.
Release dates
U.S.
Nintendo of America doesn't seem to know exactly when the first Donkey Kong arcade machine was installed in The Spot Tavern near Seattle, Washington. Though the Universal City Studios v. Nintendo Co. judgment says that DK hit the U.S. market in July 1981, longtime NOA employee Don James provided a date of August 1981 for 1UP.com's Year of the Monkey feature. We asked the author if Mr. James knew the exact day in August, but apparently that information was something no one at NOA decided to document.
Japan
Unlike most game companies, Nintendo's Japanese website contains exact release dates for many of the older games they have published, sometimes going as far back as the Family Computer (the Japanese version of the NES). Unfortunately, they give the Donkey Kong arcade game a vague release date of 1981. Another Japanese source, Smash Bros. Dojo—the official Super Smash Bros. Brawl website—narrows it down to July 1981.
Ironically, for the exact Japanese release date, we have to turn to the United States District Court. The Nintendo of America, Inc. v. Elcon Industries, Inc. judgment states, "Prior to July of 1981, Nintendo Co., Ltd. created and began manufacturing an audio-video game called Donkey Kong and first published the game in Japan on July 9, 1981." It should be noted that this date is also listed as Donkey Kong's "date of publication" in the game's U.S. copyright record.
Name origins
Donkey Kong
The story behind the "Donkey" in Donkey Kong is an interesting one, mainly because of all the rumors surrounding it. One popular urban legend, thoroughly covered on Snopes.com, is that the game was supposed to be called "Monkey Kong," but because of a translation error or miscommunication, "Monkey" became "Donkey" in America.
The fact is, as DK creator Shigeru Miyamoto explained in an interview with Nintendo Online Magazine, "donkey" came from looking up manuke (Japanese for "stupid") in an English dictionary. A similar explanation appeared years earlier in the book Game Over by David Sheff, on pages 48-49:
"They [Miyamoto and Nintendo's export manager] decided that kong would be understood to suggest a gorilla. And since this fierce but cute kong was donkey-stubborn and wily (donkey, according to their Japanese/English dictionary, was the translation of the Japanese word for stupid or goofy), they combined the words and named the game 'Donkey Kong.'"
Mario
Before he was "Mario," the protagonist of DK started out as "Ossan" (middle-aged guy). Then, because Miyamoto originally planned to put the character in every game, he was renamed "Mr. Video." Miyamoto finally settled on "Jumpman," a fitting name for a character who jumps up and down a lot. Later, the American team renamed Jumpman to "Mario" after Mario Segale, the landlord of NOA's warehouse in Tukwila, Washington. (Because of a spelling error in the book Game Over, for years it was thought that the landlord's surname was "Segali.")
Pauline
The damsel in distress was named "Pauline" by then-NOA president Minoru Arakawa. According to Year of the Monkey, Arakawa named the character after NOA employee Don James's wife, who actually goes by "Polly."
The making of DK
Programming
While Shigeru Miyamoto and his team at Nintendo created the groundbreaking Donkey Kong, another Japanese company, Ikegami Tsushinki Co., Ltd., brought the game to life. From various sources, we know that Ikegami handled the programming and sold Nintendo thousands of printed circuit boards. Ikegami's involvement was mentioned as early as 1982 in the Nintendo of America, Inc. v. Elcon Industries, Inc. judgment, and it might have remained an obscure fact if not for recent research by GDRI.
Perhaps knowing that their work would go uncredited, someone at Ikegami hid the following text in the Donkey Kong game code: "CONGRATULATION !IF YOU ANALYSE DIFFICULT THIS PROGRAM,WE WOULD TEACH YOU.*****TEL.TOKYO-JAPAN 044(244)2151 EXTENTION 304 SYSTEM DESIGN IKEGAMI CO. LIM."
Music
On page 48 of Game Over, author David Sheff says that Shigeru Miyamoto composed DK's music: "Miyamoto was nearly finished, but the game needed background music. He wrote it himself, on an electronic keyboard attached to a computer and stereo cassette deck." Miyamoto clarifies in an NPR interview: "Well, there are two versions of Donkey Kong, and the version on the Nintendo Entertainment System I did only a very little bit of the music. But in the arcade version, I did the opening music and then the end of it as well."
It appears that Yukio Kaneoka composed the rest of the music in the arcade version, and most of the NES version's music. He's credited on the official Super Smash Bros. Brawl website and in the Famicom 20th Anniversary Original Sound Tracks Vol. 1 liner notes.
Sound effects
Sometimes credited for composing Donkey Kong's music, Hirokazu "Hip" Tanaka actually made the sound effects, not the music. Now the president of Creatures Inc., Tanaka started his video game career doing sound design at Nintendo. Tanaka lists his works on his website, where he specifies "Arcade Games 1980-1983: Sound effects creation" followed by screenshots from the Donkey Kong arcade game trilogy.
The end?
Thirty years after Donkey Kong's debut, the game's history is a little clearer. Since DK is still an active video game character, there's a good chance that more info about his early history will be revealed. Based on what we've seen already, this means there's also a good chance that we'll be adding to this article.
In the mood for more "kongtroversy"? Read what happened when Rare, a British game studio, decided to expand the Kong family in Donkey Kong Country for the Super NES.
Notes