WTMK: Mario Radio
All Mario, all the time.
WTMK is an Internet radio station that plays Mario music non-stop! To listen, you will need a supported browser or a media player such as VLC or foobar2000.
To enjoy the sonic bliss of WTMK in your media player, find an "open stream" or "open location" command (Ctrl+N in VLC; Ctrl+U in foobar), and enter one of these addresses:
We cannot list all the songs on the playlist, but a large portion of the tunes come from soundtrack CDs.
Now playing music from artists such as:
The OneUps

The OneUps Volume One
The OneUps Volume Two

OneUp Studios

More Than Mario (Dale North, Mustin, Jared Dunn, po!, Anthony Lofton)
Club Game Music
The Mustin Collection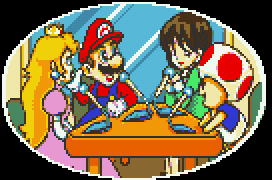 (This is not WTMK.)