Releases
The two versions compared on this page are the following:
Region
Title
Release date
Platform
Japan
夢工場 ドキドキパニック
Yume Kōjō: Doki Doki Panic
7/10/1987
Famicom Disk System
USA
Super Mario Bros. 2
10/1988
NES
Title screen
The Doki Doki Panic title screen has three balloons that pop and show the title logo. The Super Mario Bros. 2 title screen is devoid of animation.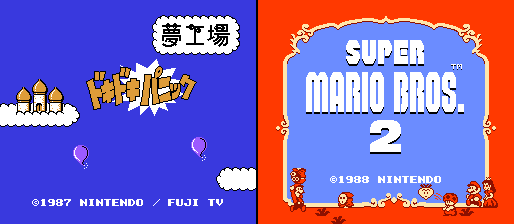 Intro
Doki Doki Panic's intro sequence starts out with two kids reading a book. After a few seconds, a big green hand pops out and pulls the kids inside the book as their pet monkey runs off to find help. Then, the four main characters appear out of nowhere and jump into the book, one at a time.
In Super Mario Bros. 2, the intro is just a story about how Mario dreamt about some weird land. Not too exciting.
Character Select screen
In Doki Doki Panic, you choose your character at the start of the game and play all the way through with him or her, saving after you defeat a boss. So, there are four save files, one for each character. SMB2 has no save feature, but you can pick your character before every level.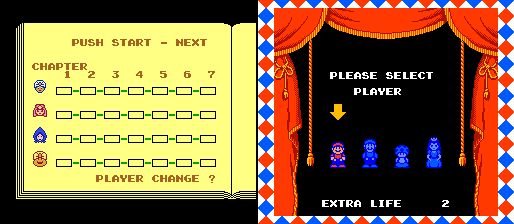 Bonus Chance
DDP's Bonus Chance screen is incredibly bland. SMB2 merely used its title screen as the background, but anything's an improvement over DDP's design. The cool thing about DDP's bonus chance is that the vegetables change depending on what level you're in. This would've been neat to see in SMB2, but, oh well.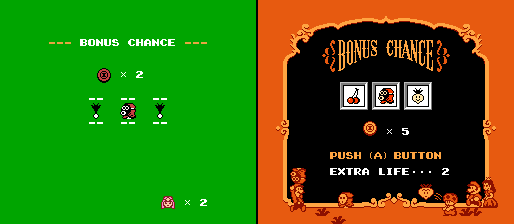 Mariofied
These are all the items and characters that were changed from DDP to SMB2. The enemies were not changed, except for boss of 5-3.


The average-skilled brother, Imajin, was changed to Mario.


The high-jumping Mama was changed to Luigi. This is the first time that Luigi is depicted taller than Mario in a game.


The long-jumping sister, Lina, was changed to Princess Toadstool.


The strong Papa was changed to Toad.


The red grass tufts were black in DDP. This explains why the vegetables you pull out in SMB2 have black grass on them.


The Magic Lamps that make doors appear were changed to Magic Potions.


The Hearts that are hidden in Sub-Space were changed to Mushrooms.


In DDP, the 1-Up item was your current character's head.


The shell was originally a blackface head named "Big Face."


The mask gate was changed to a hawk design for SMB2.


The "BOM" explosion was changed to the English "BOMB."


Phanto looked less menacing in DDP.


The Mushroom Blocks were originally odd-looking Masks.

This veggie from World 7 was changed, too.
The Lost Mouser
Doki Doki Panic originally had three Mousers, the third one appearing at the end of World 5-3. The white Mouser was replaced by Clawgrip, a rock-throwing crab.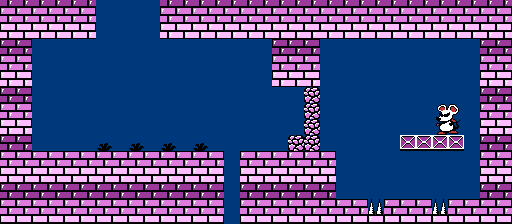 Above is a map of the third Mouser's chamber, which was completely replaced by Clawgrip and his stockpile of rocks (below). The four clumps of grass to the left of Mouser were bombs.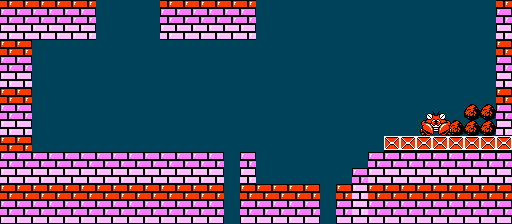 World 4-1
A power-up was added near the beginning of World 4-1.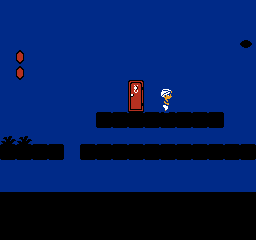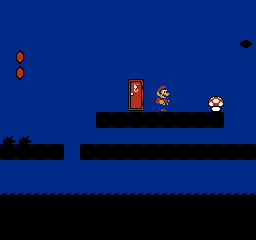 Thanks: Sam L.
World 7-1
In the second part of World 7-1, the highest cloud platform was removed, and the gray Snifit was moved to the left. The tall column-and-ladder combo were moved to the right.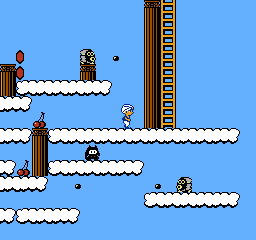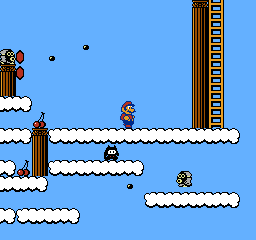 Wart's room
Wart's room has redesigned red blocks in SMB2.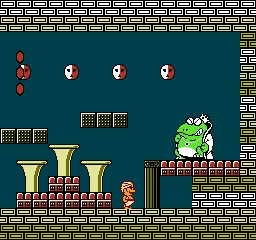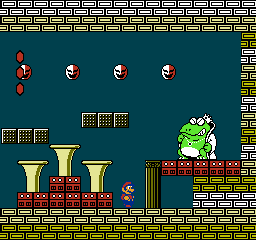 Character names
The following names come from the DDP and SMB2 manuals.
Doki Doki Panic
Super Mario Bros. 2
Name
Rōmaji
Translation
Name
トンドル
Dondoru
Dondoru
Albatoss
ターボン
Tābon
Tābon
Autobomb
トンダリヤ赤
Tondariya Aka
Tondariya Red
Beezo - Red
トンダリヤグレー
Tondariya Gurē
Tondariya Gray
Beezo - Pink
ボブ
Bobu
Bob
Bob-Omb
ガラゲーロ
Garagēro
Garagēro
Cobrat
ターペン
Tāpen
Tāpen
Hoopster
ハックンA
Hakkun A
Hakkun A
Ninji - 1
ハックンB
Hakkun B
Hakkun B
Ninji - 2
ダウチョ
Daucho
Daucho
Ostro
ポンキー
Ponkī
Ponkī
Panser
カメーン
Kamēn
Kamēn
Phanto
ドドリゲス
Dodorigesu
Dodorigesu
Pidgit
サンボ
Sanbo
Sanbo
Pokey
ハリマンネン
Harimannen
Harimannen
Porcupo
ヘイホーピンク
Heihō Pinku
Heihō Pink
Shyguy - Pink
ヘイホー赤
Heihō Aka
Heihō Red
Shyguy - Red
ムーチョグレー
Mūcho Gurē
Mūcho Gray
Snifit - Gray
ムーチョピンク
Mūcho Pinku
Mūcho Pink
Snifit - Pink
ムーチョ赤
Mūcho Aka
Mūcho Red
Snifit - Red
トトス
Totosu
Totosu
Trouter
Bosses
キャサリン
Kyasarin
Catherine
Birdo
ヒーボーボー
Hībōbō
Hībōbō
Fryguy
ドン・チュルゲ
Don Churuge
Don Churuge
Mouser
ガブチョ
Gabucho
Gabucho
Tryclyde
マムー
Mamū
Mamū
Wart
Notes
The DDP manual shows a pink Beezo, but calls it "gray."
Flurry, Spark, and Tweeter are shown in the SMB2 manual, but not in the DDP manual.
Since Clawgrip was a new boss for SMB2, he did not get a Japanese name until Super Mario USA.
Item names
The following names come from the DDP and SMB2 manuals.
Doki Doki Panic
Super Mario Bros. 2
Name
Rōmaji
Translation
Name
バクダン
Bakudan
Bomb
Bomb
チェリー
Cherī
Cherries
Cherries
メダル
Medaru
Medal
Coin
水晶玉
Suishōdama
Crystal Ball
Crystal Ball
カギ
Kagi
Key
Key
POW
POW
POW
POW
小さいハート
Chiisai Hāto
Small Heart
Small Heart
星
Hoshi
Star
Starman
ストップウォッチ
Stoppu Wotchi
Stopwatch
Stopwatch
はずれ野菜
Hazure Yasai
Unripened Vegetable
Unripened Vegetable
野菜
Yasai
Vegetable
Vegetable
Redesigned items
1UP
1UP
1UP
1 UP
魔法のランプ
Mahō no Ranpu
Magic Lamp
Magic Potion
ハート
Hāto
Heart
Mushroom
マスク
Masuku
Mask
Mushroom Block
ビッグフェイス
Biggu Feisu
Big Face
Turtle Shell
Comatose sprites
In Doki Doki Panic, not many items were animated. For example, there are no animation frames for Cherries, POW Blocks, vines, grass, Crystal Balls, Bomb fuses, water, cloud platforms, and spikes; these were all animated for SMB2.
The Albatoss enemy also has fewer animation frames than its SMB2 counterpart. Phanto does not move when you pick up a key; instead, he magically appears later to chase you around.
In a somewhat related note, if you get down to one dot on the power meter in DDP, you don't shrink to half your size. This and the "B-Button run" are Mario trademarks, and were duly added to SMB2.
Audible changes
DDP has shorter character select and aboveground background music
1-Ups make "finish level reward fanfare" noise
Enemies make different noises when picked up or thrown
Birdo makes different noises
Rockets makes different noises
POW Blocks make different noises
Cherry collection makes different noise
Doors and potions make different noises
Mask gates make different noises
Your character makes different noises when hit
Starman and Sub-space background music is different
Whale's waterspouts make new gushing noises
The Stopwatch's noise is slightly different