Brain droppings from the TMK crew. Read, reply, repeat.
If you've got something cool, interesting, funny, or weird about Mario, let us know and we might post it here!
Note: Click a headline for a permanent link to the article.
October 21, 2016
During the much-anticipated reveal of Nintendo's next console, officially named the "Nintendo Switch," two new Mario games were unveiled today.
The first was a Mario Kart game in the style of
Mario Kart 8
, but with King Boo included as a racer and two item slots instead of one. Two players were shown racing in the "GCN Yoshi Circuit" course.
The second was a 3D platformer with the camera positioned behind Mario. In the footage, Mario showed off his triple jump and long jump abilities, and narrowly avoided a Bullet Bill.
It wasn't mentioned if the Mario games shown were tech demos or previews of actual games, but with the Nintendo Switch releasing in March, there's a good chance we'll find out soon either way.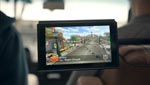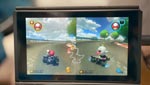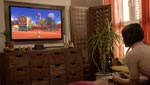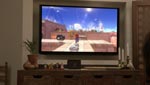 Screen captures from YouTube video.
Link:
First Look at Nintendo Switch
(YouTube)
September 2, 2016
Nintendo announced three more games starring Mario and friends during the Nintendo 3DS Direct earlier today.
Super Mario Maker for Nintendo 3DS
- New additions to this version include interactive lessons and 100 built-in courses. Unfortunately, a small number of course-creation tools from the original won't be available (exact number unknown), and there's no online sharing, but players can download "select courses from the Wii U version," according to a press release from Nintendo. Players can start making Marios on Nintendo 3DS on December 2 in both the U.S. and Europe.
Mario Sports Superstars
- The latest Mario sports game will support local and online multiplayer for each of its five sports: baseball, golf, horse racing, soccer, and tennis. Mario Sports Superstars will sit on the sidelines until Spring of next year.
Poochy & Yoshi's Woolly World
-
Yoshi's Woolly World
is coming to the 3DS with added stages made just for Poochy. This version is set to release on February 3 in both the U.S. and Europe.
amiibo
- In amiibo news, a yarn Poochy figure will release alongside Poochy & Yoshi's Woolly World on February 3.
Links:
Nintendo 3DS Direct 9.1.2016 (NOA)
NOA news
NOE news
August 26, 2016
If you enjoy Waluigi, live vocal music, and ukuleles, you might enjoy
Waluigi
-- possibly the only song ever written about everyone's favorite weird purple quasi-plumber!
Yes, I've added it to the
WTMK stream
. Feel free to buy a copy anyway, and support young musicians (like my sister).
Link:
"Waluigi"
from
Catherine Dayton: Live Recordings
July 15, 2016
Donkey Kong
was released in July of 1981, making this the 35th anniversary of the Mario gaming series! That's right -- Mario is now old enough to become president of the USA!
How will you be celebrating the 35th anniversary of Mario's first video game,
Donkey Kong
?
(Feel free to tune into WTMK -- we're running a 35th anniversary playlist!)
June 20, 2016
Though Nintendo's main focus for this year's E3 was The Legend of Zelda: Breath of the Wild, they still had some announcements ready for Mario and friends.
*
Mario Party Star Rush
was announced for Nintendo 3DS. This party starts in Europe on October 7, and in North America on November 4.
* Announced earlier this year,
Paper Mario: Color Splash
now has a release date set for October 7 in both North America and Europe.
* The Super Mario series of amiibo will soon expand to include Boo, Daisy, Diddy Kong, Donkey Kong, Rosalina, Waluigi, and Wario. All seven will launch in North America on November 4. In Europe, four of them (Boo, Donkey Kong, Rosalina, and Wario) will launch on October 7, followed by the other three (Daisy, Diddy Kong, and Waluigi) on November 4.
Link:
Nintendo @ E3 2016
June 10, 2016
A talented fellow has been busy beating a variety of games and challenges using his feet and a large, metal, arcade-style DDR dance pad. Recently, he completed
Super Mario 3D World
's Champion's Road using these unusual gaming implements. Watch and be amazed!
Link: YouTube -
[DDR Highlight] - CHAMPION'S ROAD HAS BEEN STOMPED!!!
(Warning: some non-work/child friendly language)
Link:
Peekingboo's Twitch Channel
The British magazine
Sci-Fi Now
recently published an interview with Rocky Morton, co-director of
the Super Mario Bros. movie
. Rocky, who shared directing duties with Annabel Jankel, answered questions and provided insights into the difficulties behind the scenes.

"Danny De Vito turned us down"

"We were with CAA, the agency, and our agent set over the script for Super Mario Bros. and I read it and I hated it, but I sort of loved the concept for it. I said to Annabel, I said, 'This script is terrible but I think this could be our Batman!'"

"I had to stand by with the new script, obviously, and tell them that it was great when I knew it wasn't."
These, and many more exciting bits of trivia, can be found over at
Sci-Fi Now
!
Link:
Sci-Fi Now: Super Mario Bros.'s Rocky Morton: 'It was a harrowing experience' - Director Rocky Morton had the worst time making Super Mario Bros.
March 4, 2016
Here's a quick recap of the Mario news from today's Nintendo Direct.
* Paper Mario: Color Splash was announced for Wii U, and is planned for release sometime this year.
* On March 9, Super Mario Maker will receive an update that adds new course elements: Skewers (first seen in Super Mario World), Keys, Key Doors, and Pink Coins (collect all five Pink Coins to make a Key appear). Also, a Super Expert mode will be added to the 100 Mario Challenge.
* Mini Mario & Friends: amiibo Challenge is coming to North America for Wii U and 3DS. It will be free to download, but you'll need a compatible amiibo to play. Early access begins March 25 (amiibos from participating retailers will include download codes), which is just over one month before it hits the Nintendo eShop on April 28.
* The Wii U version of Mario & Sonic at the Rio 2016 Olympic Games is set for release on June 24.
* Super NES Virtual Console on 3DS starts today, but only for the New Nintendo 3DS models. Super Mario World, Pilotwings, and F-Zero are now available on the eShop. The next wave hits on March 24, with Super Mario Kart, Donkey Kong Country, and EarthBound. April 14 will see the release of Donkey Kong Country 2: Diddy's Kong Quest, Super Metroid, and The Legend of Zelda: A Link to the Past.
Links:
Nintendo Direct 3.3.2016 video
(NOA)
NOA news
January 9, 2016
WTMK is now featuring the least played Mario tunes of 2015. Tune in and see what everyone missed!
Link:
WTMK - All Mario, All the Time
.
November 3, 2015
Collector
Steven Lin
is in the process of scanning and releasing a large number of documents from the launch of the NES in the USA. Perhaps more light can be shed on the
release date
of
Super Mario Bros.
Link:
Steven Lin's Twitter (https://twitter.com/stevenplin)
October 26, 2015

Eerie sounds have begun emanating from WTMK. All this week, tune in for some dark tones from the Mushroom Kingdom's Dark World.
Yes, that includes Ashley's theme.

Link:
WTMK: All Mario Radio
September 18, 2015
Welcome (back) to Warp Zone!
The 30th anniversary of Super Mario Bros. and the recent release of Super Mario Maker have spawned some interesting articles and videos. Here are some you might have missed:
Here's What Super Mario Bros.' Creators Think of Super Mario Maker
(time.com)
Super Mario Bros. creators Shigeru Miyamoto and Takashi Tezuka talk about how Super Mario Maker started and how it might affect future Nintendo consoles.
With 'Mario Maker,' Nintendo relinquishes control
(bigstory.ap.org)
Though this one is a bit shorter, it's still worth a read, and not just because it calls the game "Mario Marker" once.
Interview: Yosuke Oshino On The Origins And Evolution Of Super Mario Maker
(nintendolife.com)
An interview with Yosuke Oshino, director of Super Mario Maker.
Mario Maker's Makers On The Added Super Prefix, Mario Paint, And LittleBigPlanet
(gameinformer.com)
GameInformer recently reposted this interview from June, which is when "Mario Maker" was renamed to "Super Mario Maker."
Super Mario Bros. 30th Anniversary Special Interview
(youtube.com)
In this nearly 10-minute-long video from Nintendo, Miyamoto and Tezuka show some design documents from the original SMB. It also includes some footage from the late 1980's with Miyamoto and other Nintendo staff showing more old SMB stuff.
Super Mario's makers play Super Mario Maker
(youtube.com)
Eurogamer's video of Miyamoto and Tezuka editing a course in Mario Maker.
Miyamoto on World 1-1: How Nintendo made Mario's most iconic level
(youtube.com)
Another video from Eurogamer. Miyamoto and Tezuka share some interesting details about designing SMB's World 1-1 and creating the Goomba.