Brain droppings from the TMK crew. Read, reply, repeat.
If you've got something cool, interesting, funny, or weird about Mario, let us know and we might post it here!
Note: Click a headline for a permanent link to the article.
September 18, 2015
Welcome (back) to Warp Zone!
The 30th anniversary of Super Mario Bros. and the recent release of Super Mario Maker have spawned some interesting articles and videos. Here are some you might have missed:
Here's What Super Mario Bros.' Creators Think of Super Mario Maker
(time.com)
Super Mario Bros. creators Shigeru Miyamoto and Takashi Tezuka talk about how Super Mario Maker started and how it might affect future Nintendo consoles.
With 'Mario Maker,' Nintendo relinquishes control
(bigstory.ap.org)
Though this one is a bit shorter, it's still worth a read, and not just because it calls the game "Mario Marker" once.
Interview: Yosuke Oshino On The Origins And Evolution Of Super Mario Maker
(nintendolife.com)
An interview with Yosuke Oshino, director of Super Mario Maker.
Mario Maker's Makers On The Added Super Prefix, Mario Paint, And LittleBigPlanet
(gameinformer.com)
GameInformer recently reposted this interview from June, which is when "Mario Maker" was renamed to "Super Mario Maker."
Super Mario Bros. 30th Anniversary Special Interview
(youtube.com)
In this nearly 10-minute-long video from Nintendo, Miyamoto and Tezuka show some design documents from the original SMB. It also includes some footage from the late 1980's with Miyamoto and other Nintendo staff showing more old SMB stuff.
Super Mario's makers play Super Mario Maker
(youtube.com)
Eurogamer's video of Miyamoto and Tezuka editing a course in Mario Maker.
Miyamoto on World 1-1: How Nintendo made Mario's most iconic level
(youtube.com)
Another video from Eurogamer. Miyamoto and Tezuka share some interesting details about designing SMB's World 1-1 and creating the Goomba.
September 10, 2015
Was Super Mario Bros. 3 just a play? Does Mario break bricks with his fist? Would you let Dr. Mario operate on you? Mario creator Shigeru Miyamoto answers these questions and more in Nintendo UK's video,
Mario Myths with Mr Miyamoto
, posted today on YouTube.
Though some of the questions are silly, and the answers are mostly yes-or-no, I always find it interesting when Miyamoto is asked these kinds of questions. It's too bad only eight questions were asked -- here's hoping for another "Mario Myths" interview sometime soon!
August 7, 2015
WTMK
is back! We had some technical issues over the past few months, but everything has been cleared up and we're now broadcasting a broad spectrum of music from all Mario games! Tune in now and see what's new!
Link:
WTMK: All Mario Radio
July 25, 2015
"No movie is without sin," is the motto of
CinemaSins
. And the time has come for
Super Mario Bros.
to pay for its crimes. Or, at least... be scathingly criticized for them, step-by-step, in a video one-fifth as long as the movie itself.
Everything Wrong With Super Mario Bros. In 21 Minutes Or Less
Justice is served!
If you haven't got 20 minutes to spare, perhaps the also recently-released
Honest Trailer for the film
by Screen Junkies will hold you over.
May 22, 2015
Some folks have been reporting that WTMK is broadcasting tracks at overly loud levels of volume. We've resolved the issue, but if you notice any audio problems, please let us know!
Link:
WTMK: All Mario Radio
March 17, 2015
Normally it won't be news that Nintendo is working on a new console, but with the internet all a-flurry about Nintendo's decision to make games for smart devices it had some people wondering. Recently Nintendo's chief executive, Satoru Iwata said,

"Nintendo has decided to deploy its video game business on smart devices, but it is not because we have lost our passion or vision for the business of dedicated video game systems. On the contrary, because now we have decided on how we will make use of smart devices, we have come to hold an even stronger passion and vision for the dedicated video game system business than before. As proof that Nintendo maintains strong enthusiasm for the dedicated game system business, let me confirm that Nintendo is currently developing a dedicated game platform with a brand-new concept under the development codename 'NX.' It is too early to elaborate on the details of this project, but we hope to share more information with you next year."

What do you think the "brand-new concept" for the NX will be?
The alliance between Nintendo and DeNA will bring new Nintendo game apps to a new multi-device membership service worldwide. This new service will be accessible from smart devices, PC and Nintendo systems, such as the Nintendo 3DS portable system and the Wii U home console, and is expected to launch in fall 2015.

All Nintendo IP will be available to the alliance for creation of new original games. They will not be porting any games made for the Wii U or 3DS. Instead, the hope is that consumers will explore more with Nintendo's dedicated video game platforms.

http://press.nintendo.com/articles.jsp?id=42533
March 1, 2015
On January 20, Nintendo announced that Club Nintendo will close down at the end of June. They also announced the last day to earn coins is March 31, which means members have about 31 days remaining to register products and fill out surveys. If you haven't already registered all your games, we recommend doing so ASAP to make sure all the post-play surveys pop up before the deadline.
The last day to redeem coins, however, is June 30. The current rewards catalog will also run until Club Nintendo closes. Speaking of rewards, here are all the Mario, Luigi, DK, Yoshi, and Wario digital games available, and how many coins they'll cost you:
Wii U Virtual Console
Donkey Kong 3
- 200
Donkey Kong Jr.
- 200
Dr. Mario (NES)
- 200
Mario Bros.
- 200
NES Open Tournament Golf
- 200
Super Mario Bros.
- 200
Super Mario Bros. 2
- 200
Super Mario Bros. 3
- 200
Super Mario Bros.: The Lost Levels
- 200
Super Mario World
- 200
Wario's Woods (NES)
- 200
Wrecking Crew
- 200
Yoshi (NES)
- 200
Yoshi's Island: Super Mario Advance 3
- 200
Wii U
Dr. Luigi
- 300
Game & Wario
- 600
NES Remix
- 300
Wii Virtual Console
Mario Golf (N64)
- 250
Mario Kart 64
- 250
Mario Party 2
- 250
Mario Tennis (N64)
- 250
Paper Mario
- 250
Super Mario 64
- 250
Super Mario Bros.: The Lost Levels
- 200
Super Mario Kart
- 250
Super Smash Bros. (N64)
- 250
Nintendo 3DS Virtual Console
Donkey Kong (GB)
- 150
Donkey Kong Jr.
- 200
Mario Golf (GB)
- 200
Mario's Picross
- 150
Super Mario Land
- 150
Super Mario Land 2: 6 Golden Coins
- 150
Wario Land II
- 200
Nintendo 3DS
Donkey Kong Country Returns 3D
- 600
Mario and Donkey Kong: Minis on the Move
- 250
Mario vs. Donkey Kong: Minis March Again!
- 200
New Super Mario Bros. 2
- 600
Paper Mario: Sticker Star
- 700
Super Mario 3D Land
- 600
And finally, don't forget to check Club Nintendo in April for the Elite Status 2015 gifts!
Link:
Club Nintendo Program Notice
February 12, 2015
Though Mario vs. Donkey Kong: Tipping Stars will be a digital-only release in the U.S. and Europe, the pack shots released today by Nintendo of Europe show that they plan to sell download codes at retail stores as well.
Releasing a game case just to hold a download code might seem silly at first, but having something physical in stores will help drive more sales. And with its bold red background and a Mini Mario that seems to be popping out of the cover, this package is sure to catch the eyes of shoppers.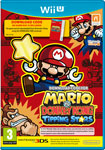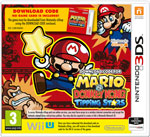 In Japan, Nintendo will include the actual Wii U game disc or 3DS game card in the cases, which means that the neat artwork won't be obscured by the "Hey, you're only buying a download code!" notices.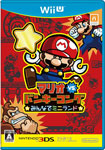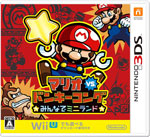 And now, a question for our readers: Would you rather buy the game case for a code, or save the extra step and order it from the eShop?
February 5, 2015
The Daily Show host Jon Stewart has spiced up his jokes with Mario references before, but last night's show included one with a twist.
In the first segment, while joking about how Senator Mitch McConnell looks like a turtle, a few seconds of Super Mario Bros. gameplay was shown, featuring a green Koopa Troopa on a pipe in World 1-1. If you're familiar with the game, you might have noticed something odd: There's not supposed to be a Koopa Troopa there.
Here's a screencap from
Comedy Central's stream
: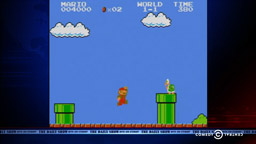 And here's the section from World 1-1 that was shown, with correct enemy starting points, taken from our
map of the level
:
Assuming The Daily Show didn't make their own Super Mario Bros. ROM hack just for that one segment, the source of the footage is unclear. Did they grab the footage from somebody else's ROM hack? Or do they have really good video editors with lots of SMB experience? Tell us what you think in the
forums
, or, send us an email and we might include it in our next mailbag article.
For more "The Daily Show with Jon Stewart" Mario references, visit our
TV sightings
section.
January 14, 2015
Today's Nintendo Direct was packed with release dates, game announcements, and amiibo news. Let's take a look at what's new in Mario's world.
* Puzzle & Dragons: Super Mario Edition was announced for Japan a week ago, and today's Direct revealed a Puzzle & Dragons Z + Puzzle & Dragons: Super Mario Edition combo pack for North America, Europe, and Australia. The two-game set is currently scheduled for a May release.
* A Super Mario series of amiibo was unveiled. The lineup includes six figures: Mario, Luigi, Peach, Yoshi, Bowser, and Toad. They will look different than the Super Smash Bros. amiibos, and, like some of the Smash Bros. figures, they can be used to open an Amiibo Party Mode in Mario Party 10. The Toad amiibo will unlock an 8-bit Toad sprite hunt in Captain Toad: Treasure Tracker in a future game update.
* Starting today, you can download Super Mario Galaxy 2 from the eShop and play it on your Wii U -- without going into Wii Mode. More Wii game downloads will be available in the future, including Donkey Kong Country Returns. Nintendo has Super Mario Galaxy 2 priced at half off ($9.99) for its first week on the eShop. Donkey Kong Country Returns will release in Japan on January 21, and in Europe on January 22.
* Mario Party 10 release dates were announced: March 20 in North America and Europe, March 12 in Japan, and March 21 in Australia. A limited edition bundle with a Mario amiibo packed in is also planned.
* The Mario vs. DK game shown at E3 2014 is now called Mario vs. Donkey Kong: Tipping Stars. Nintendo also announced a 3DS version today, and if you purchase the Wii U version you'll get a free download code for the 3DS version, and vice-versa. Both versions will launch in North America on March 5, in Japan on March 19, in Europe on March 20, and in Australia on March 21.
What are you most excited about? Let us know in the
forums
!
Links:
Nintendo Direct 01.14.2015 (NOA)
Nintendo Direct 2015.1.14 (NCL)
Nintendo Direct 14.01.2015 (NOE)
Nintendo Direct 14.01.2015 (NAL)
January 11, 2015
WTMK
is now broadcasting a special playlist of all the music
least played
on WTMK during 2014.
Confused? Don't worry about it - just tune in and listen to some tunes you probably haven't heard in quite a bit!
Link
WTMK: All Mario Radio