Mailbag
16 Aug 2004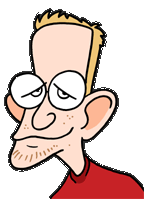 Deezer
Power napper
---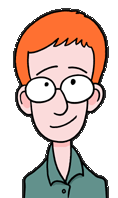 Lizard Dude
Only Master Yoda has a higher midi-chlorian count
---
MEGAߥTE
Down at Fraggle Rock
---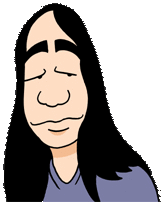 Chupperson
Killed by a chair
Got something you want us to answer next time? Send it in!
Deezer: (1) I really don't think Rare will be returning to Nintendo anytime soon. As for the "old-new" DK, here's what Rare said on one of their latest website updates: DK is doing fine, what's wrong with Donkey Konga? It looks well smart. And that new GBA title King of Swing looks very interesting too. Nintendo know what they're doing, and will do all they can to protect the DK franchise.
(2) See previous mailbag.
[3] Unfortunately your ideas would require more time and effort than I want to spend on WTMK. Actually, David has been thinking about setting up a live WTMK stream from his PC. If that becomes a reality, we could take requests in the chat room or something.
Lizard Dude: (4) They could have fit it but I'm sure they didn't feel like it. Super Circuit did have all the SNES tracks, though, so I wouldn't consider the N64 tracks completely down for the count. They'd be perfect on a DS. ;)
[5] That would be cooler than most fanfics. Write it and send it in. Please make sure I get a better role than David.
MEGAߥTE: (1) It would most likely take either Nintendo or Microsoft or both giving up on the console wars. However, don't you love Rare's answers: "...we're not doing any DS games, are we? Or are we? Or... are we?" They also mentioned this: "We would be more than happy to make any new game featuring the old ape, but of course the final decision is all Nintendo's." Dun dun dun.
[3] Send us lots of money and we can set up a more serious station to do the things you mentioned.
(4) Yeah, but there were a lot of other oversights in the game that should have been addressed before that... crappy battle stages, lack of character choice during LAN battles, lack of battle stats, etc.
Chupperson: 0. You're 50?
(4) I just wish I had MKDD.
[5] We're going to E3 anyway. And why would Deezer get tired of Mario?
Deezer: He was "Bloober" in SMB and SMB3, and "Blooper" in every other game (pretty sure). Nintendo of America is notorious for stuff like that. In Japan, Bloober/Blooper has always been known as "Gessoo". (If I remember correctly, Miyamoto said in an interview that the name came from geso, a Korean squid dish.)
Lizard Dude: I like the sound of Bloober better.
MEGAߥTE: Boober!

Chupperson: What about Gobo, Mokey, and Red? Oh, it was "Bloober" in Mario Party 3, also. ...Oh, and Wembley, too.
Deezer: Truly fascinating. By the way, sup M3w? Heard you call into G4TV.com a while back. :)
Lizard Dude: If someone makes a cake mushroom hat and sends us a picture, I'll mail them a free SNES game of my choosing. Fire up those EZ Bake Ovens!
MEGAߥTE: For reference: 'Weight Up'. None of my comics have the hat removal, though the cartoons certainly featured it. The King doesn't count since he's human.
Deezer: MEGAߥTE's TMK Mailbag Administrator v0.2.
Lizard Dude: Actually it was v0.1.
MEGAߥTE: Well the original format was every week, but getting everyone on task to do that now is harder than playing Tubular with your feet.
MEGAߥTE: The same as usual, Koji Kondo. He was credited as "Konchan" in DDP.
MEGAߥTE: The Phillips/Magnavox CD-i was its own system, not an add-on for the SNES, though Phillips was making a CD-i compatible add-on for the SNES at one point. The details would take far too long to go through here, so I'm going to refer you to some sites with good information about what you've asked.
"The SNES CD-Rom extension" @ NINTENDO LAND
64DD.net
64DD研究所
MEGAߥTE: It seemed to me that it got a fair amount of advertisement, though I was a subscriber to Nintendo Power during the time that it came out... The last games of systems are normally better than earlier games simply because after several years of working with the hardware, the developers have learned all sorts of tricks, allowing them to design games that use the systems to near maximum potential. Unfortunately, these games are often overshadowed by the next generation of systems.
Chupperson: I don't think I knew about it when it came out. I was too preoccupied with Super Mario 64. I don't think I ever saw any commercials for either of those games, however.
Deezer: I remember my local Toys 'R' Us having a big "Super Mario RPG" window banner, and Nintendo Power hyping it up a lot, but other than that I really didn't pay much attention. Unfortunately, my indifference turned into boredom when I finally rented the game.
Lizard Dude: Still my personal favorite.
Chupperson: Boredom? What the heck?
Deezer: I've noticed that Squaresoft games usually have that effect on me.
MEGAߥTE: You can, but we don't condone that kind of activity. Also, watch out for eBay scammers... all of those "all Mario episodes" DVDs are just pirated copies likely gotten from the aforementioned P2P networks. There is hope, however. General Mills is giving away Mario DVDs in certain cereal boxes.
MEGAߥTE: I included it anyway so everyone can find out the truth. Thanks for the update!
Lizard Dude: The truth really was out there!
MEGAߥTE: Most abandonware is still probably illegal. Unless the company puts the game out into public domain specifically, they still own the rights. I doubt that Macplay (Interplay) did that. The bigger problem here is that Nintendo would still likely have rights as well. However, the Copyright Office has said that software that is no longer readily available can theoretically be used under fair use, but this has never been tried in court to my knowledge. They probably won't come after you in any case, but that still doesn't make it legal.
Deezer: Hey Mark, good to hear from you again, but... sources! I need sources! :) And don't forget pictures! ;)
I don't visit Japanese fan sites regularly, but right away I came across these two that specify "overseas release" for VsSMB.
http://luna-arcus.alpha-sv.com/mario/data/nempyo.html
http://www.tanomi.com/metoo/syusei.html?kid=32925
MEGAߥTE: Bid higher.
Deezer: Our stream is hosted by http://radio.emulationzone.org/ ('Zone Radio Network). I have no experience with "do it yourself" either.
MEGAߥTE: Yep, that's interesting. I'd like somebody to research the falling-through-the-ground glitch during the final battle. It's happened to me several times and is really annoying. I don't understand the obsession over Luigi games...