Brain droppings from the TMK crew. Read, reply, repeat.
If you've got something cool, interesting, funny, or weird about Mario, let us know and we might post it here!
Note: Click a headline for a permanent link to the article.
July 13, 2018
Day three of "Nintendo Treehouse Live at E3 2018" started off with a look at Arcade Archives Donkey Kong and a special guest appearance by Don James, the Nintendo of America executive vice president of operations. Don James, who was the NOA warehouse manager when Donkey Kong was released in 1981, joined Treehouse staffers Morgan and Sam to talk a little bit about the early history of Donkey Kong and how Mario and Pauline got their names.
Nintendo live-streamed it all last month on YouTube
here
(the Donkey Kong segment starts at
27:00
). The following is our transcription of the Donkey Kong Q&A section:
[Timestamp:
28:48
]
Morgan Ritchie:
So, 36 years ago, Nintendo of America was literally a warehouse?
Don James:
Yeah. There were only five employees in a warehouse. We were importing games from Japan fully loaded and complete, and then after that, we couldn't build them fast enough and get them shipped into the United States, because Donkey Kong was so popular. So, we started manufacturing them in the Southcenter facility.
MR:
That's so cool. It's like a warehouse full of Donkey Kong machines, basically.
[
29:13
]
MR:
Do you remember when Donkey Kong came out? What that was like? Was it popular?
DJ:
Well it was pretty crazy, because the first time we saw it, we immediately thought, "Donkey Kong," what the heck kind of a name is that? Then Japan [Nintendo Co., Ltd.] actually asked us one time if we wanted to rename the main character, Jumpman. Mr. [Minoru] Arakawa, who was the president [of NOA], and myself looked at the character, and we had a landlord that happened to be named Mario as well, and we'd never met the guy, so we thought it'd be funny to name this main character "Mario" after our landlord in Southcenter. And that's actually how Mario got his name.
MR:
(Laughs) That's amazing. Did he ever know?
DJ:
Yeah, he knows. It's been written in a couple of books.
A little later...
[
36:00
]
MR:
Speaking of Pauline, Don, you mentioned Mario, the genesis of that name. I know that some of the other characters in this game were maybe named after people you knew in your real life, back in the day. Can you talk a little about that?
DJ:
Yeah, little known fact is that my girlfriend at the time, she was the reason -- through her father's connection to the Far East Video company, was the reason I got offered the consulting job. And so, after we named Mario, Mr. Arakawa thought it'd be really funny to name the heroine -- the female character in the game Pauline, which was actually taken from my girlfriend's name. She eventually became my wife, so effectively, Pauline's named after my ex-wife.
MR:
(Laughs) That is so cool.
If you found this article interesting, be sure to check out our
History of Mario's Name
special!
March 10, 2018
Those crazy folks at www.retrorama.net are currently engaged in a multi-day Mario and Zelda gaming marathon. Go visit to donate money, win fabulous prizes, donate money, watch gaming escapades, donate money, and see whether the Mario or Zelda games come out on top.
Hurry -- they either die or quit on March 11th.
Link:
RetroRama 7 - Mario vs. Zelda
March 8, 2018
Nintendo revealed five new games starring Mario and friends during today's Nintendo Direct. Here's a quick recap:
Nintendo Switch Super Smash Bros.
(working title)
The Inklings join the fray in the fifth Super Smash Bros. game, currently scheduled to launch sometime this year.
Captain Toad: Treasure Tracker
(Switch/3DS)
A re-release of Captain Toad's Wii U game is coming to both the Switch and 3DS, featuring new levels based on locations from Super Mario Odyssey. Both versions are set for release on July 13.
Luigi's Mansion
(3DS)
Later this year, Luigi and his trusty Poltergust 3000 will return to the 3DS with this remake of Luigi's spooky adventure on the Nintendo GameCube. New additions include a boss rush mode.
Mario & Luigi: Bowser's Inside Story + Bowser Jr.'s Journey
(3DS)
A remake of
Bowser's Inside Story
, originally released on Nintendo DS, will launch on the 3DS next year. "Bowser Jr.'s Journey" is a new mode where you can experience what happens "behind the scenes" of the original adventure.
WarioWare Gold
(3DS)
A new entry in the WarioWare series is coming to the 3DS on August 3. Wario and his friends will return with a whopping 300 microgames, which include a mix of old and new content.
Link:
Nintendo Direct 3.8.18 (NOA)
January 29, 2018

Tired of the same old Mario music? Starting now, WTMK is broadcasting nothing but the
least played tunes of 2017
. If it was played more than once last year, you won't hear it! Tune in and see what obscurity you missed!

Link:
WTMK: All Mario Radio
January 11, 2018
Today's Nintendo Direct Mini webcast revealed new games and game updates for Mario and friends. Here's a quick recap:
* The Wii U platformer Donkey Kong Country: Tropical Freeze will be re-released on the red-hot Nintendo Switch on May 4. This version adds Funky Kong as a playable character.
* Mario and friends are ready to serve up another tennis game, this time on the Switch. Mario Tennis Aces will launch sometime this spring.
* In an upcoming free update to Super Mario Odyssey, Luigi will host a new mode called "Balloon World." You can hide balloons in the various kingdoms and see how fast you can find the balloons hidden by other players around the world. New outfits and snapshot filters will also be included in the update, which will be available in February.
* A new DLC pack coming this spring to Mario + Rabbids Kingdom Battle will include Donkey Kong and a new world. The price has yet to be annouced.
Link:
Nintendo Direct Mini 1.11.2018
June 22, 2017
SO IT'S FINALLY BACK, TO PERFORM FOR YOU
USE THE URL AND YOU'LL HEAR WHAT'S NEW
PUT YOUR HANDS TOGETHER IF YOU WANNA APPLAUD
TMK'S RESIDENT TECHIE SQUAD.
In other words, WTMK is fully back and functional. The music management system received an update a few months back that seemed to lead to endless snarls and crashes, possibly due to a PHP version incompatibility in the backend. Thankfully, TMK's resident tech genius got everything working this week. Thanks to MegaByte, WTMK is back! All three broadcasts (MP3, Ogg Vorbis, and Opus) are streaming, the cross-fade issues have been fixed, and new audio has been added!
Tune in now to
WTMK -- All Mario Radio, (almost) All the Time
:
http://themushroomkingdom.net/wtmk.shtml
.
June 13, 2017
Three new games starring Mario and friends were officially announced during this year's Electronic Entertainment Expo in Los Angeles, California.
Yesterday, Ubisoft and Nintendo showed off
Mario + Rabbids Kingdom Battle
, a turn-based strategy adventure that will bring the zany Rabbids to the Mushroom Kingdom to team up with Mario, Luigi, Peach, and Yoshi.
Kingdom Battle
will release exclusively on the Nintendo Switch on August 29.
A Yoshi platforming game for Nintendo Switch, tentatively called "Yoshi for Nintendo Switch," is currently planned for release next year. The developer of Yoshi's latest adventure is Good-Feel, the team behind two other recent Yoshi games:
Yoshi's Woolly World
(Wii U) and
Poochy & Yoshi's Woolly World
(3DS).
A remake of the first "Mario & Luigi" game is coming to Nintendo 3DS this October.
Mario & Luigi: Superstar Saga + Bowser's Minions
will feature "Minion Quest: The Search for Bowser," an all-new mode that reveals what happens behind the scenes while the Bros. are saving the Beanbean Kingdom.
Links:
Ubisoft E3 2017 Conference
(ubisoft.com)
Nintendo News from E3 2017
(e3.nintendo.com)
October 20, 2016
During the much-anticipated reveal of Nintendo's next console, officially named the "Nintendo Switch," two new Mario games were unveiled today.
The first was a Mario Kart game in the style of
Mario Kart 8
, but with King Boo included as a racer and two item slots instead of one. Two players were shown racing in the "GCN Yoshi Circuit" course.
The second was a 3D platformer with the camera positioned behind Mario. In the footage, Mario showed off his triple jump and long jump abilities, and narrowly avoided a Bullet Bill.
It wasn't mentioned if the Mario games shown were tech demos or previews of actual games, but with the Nintendo Switch releasing in March, there's a good chance we'll find out soon either way.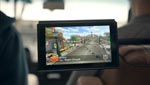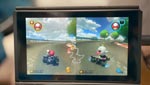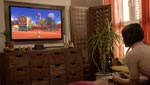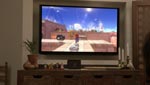 Screen captures from YouTube video.
Link:
First Look at Nintendo Switch
(YouTube)
September 1, 2016
Nintendo announced three more games starring Mario and friends during the Nintendo 3DS Direct earlier today.
Super Mario Maker for Nintendo 3DS
- New additions to this version include interactive lessons and 100 built-in courses. Unfortunately, a small number of course-creation tools from the original won't be available (exact number unknown), and there's no online sharing, but players can download "select courses from the Wii U version," according to a press release from Nintendo. Players can start making Marios on Nintendo 3DS on December 2 in both the U.S. and Europe.
Mario Sports Superstars
- The latest Mario sports game will support local and online multiplayer for each of its five sports: baseball, golf, horse racing, soccer, and tennis. Mario Sports Superstars will sit on the sidelines until Spring of next year.
Poochy & Yoshi's Woolly World
-
Yoshi's Woolly World
is coming to the 3DS with added stages made just for Poochy. This version is set to release on February 3 in both the U.S. and Europe.
amiibo
- In amiibo news, a yarn Poochy figure will release alongside Poochy & Yoshi's Woolly World on February 3.
Links:
Nintendo 3DS Direct 9.1.2016 (NOA)
NOA news
NOE news
August 26, 2016
If you enjoy Waluigi, live vocal music, and ukuleles, you might enjoy
Waluigi
-- possibly the only song ever written about everyone's favorite weird purple quasi-plumber!
Yes, I've added it to the
WTMK stream
. Feel free to buy a copy anyway, and support young musicians (like my sister).
Link:
"Waluigi"
from
Catherine Dayton: Live Recordings
July 15, 2016
Donkey Kong
was released in July of 1981, making this the 35th anniversary of the Mario gaming series! That's right -- Mario is now old enough to become president of the USA!
How will you be celebrating the 35th anniversary of Mario's first video game,
Donkey Kong
?
(Feel free to tune into WTMK -- we're running a 35th anniversary playlist!)
June 19, 2016
Though Nintendo's main focus for this year's E3 was The Legend of Zelda: Breath of the Wild, they still had some announcements ready for Mario and friends.
*
Mario Party Star Rush
was announced for Nintendo 3DS. This party starts in Europe on October 7, and in North America on November 4.
* Announced earlier this year,
Paper Mario: Color Splash
now has a release date set for October 7 in both North America and Europe.
* The Super Mario series of amiibo will soon expand to include Boo, Daisy, Diddy Kong, Donkey Kong, Rosalina, Waluigi, and Wario. All seven will launch in North America on November 4. In Europe, four of them (Boo, Donkey Kong, Rosalina, and Wario) will launch on October 7, followed by the other three (Daisy, Diddy Kong, and Waluigi) on November 4.
Link:
Nintendo @ E3 2016