Mailbag
11 Sep 2004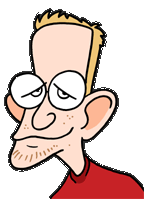 Deezer
Late to every party
---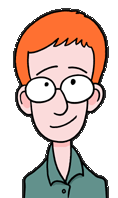 Lizard Dude
Freshly shorn
---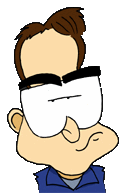 David Dayton
Seriously serious
---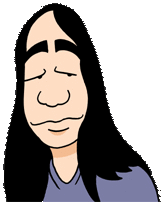 Chupperson
Aphex Triplet
---
MEGAߥTE
Left out
---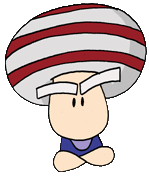 Mushroom Boy
TMK mascot
Got something you want us to answer next time? Send it in!
Deezer: They probably won't release it. I mean, I hope they don't, for obvious reasons. They used to have it listed as an "upcoming game" in Nintendo Power for a while, but I think at this point they would rather focus on other games. Why don't you ask Nintendo and get back to us?
P.S I hope Mario Party Advance doesn't bomb.
Lizard Dude: I'm just scared of the classic everyone needing a cartridge dilemma.
Deezer: Well now that "Yoshi's Universal Gravitation" was revealed a couple days ago, I think we know what happened to Yoshi's Story on GBA...
David Dayton: The Yoshi GBA game will be interesting... and Mario Party could be either really good or really bad.
Chupperson: Or... it could be really mediocre.
MEGAߥTE: Yoshi + King of Red Lions = win?
Deezer: Glitch of hatchet (or as for cheat? Certain) it is beautiful unexpectedly, but it is. When it has radish in the crane,! Be careful: It cannot kill the that of radish, nor we want.
Lizard Dude: Type, I cannot include/understand what the pier with ?laire-way indicate to you.
Chupperson: Is your home country language what? Is the fact that it picks liked? Method I don' in the angle which is the strange quantity of the oxygen of the atmosphere, turns; You know t. As for good day in crack of noon awaking.
David Dayton: Potchgult, potchgult potchgult. Potchgult, potchgult potchgult potchgult. POTCHGULT.
MEGAߥTE: We thank you for your lessons on sex, drugs, RADISHI and roll.
Deezer: I noticed that too. :D
There are a few more Mario references, but I don't want to spoil it here.
Lizard Dude: Remember, the Pikmin live in the Mushroom Kingdom as seen in Mario Golf: Toadstool Tour.
David Dayton: I need to document all these with screen shots.
MEGAߥTE: That doesn't make sense since (most of?) the other characters are from TMK.
Lizard Dude: That does make sense since (most of?) the other characters are from TMK.
Chupperson: Who is Micheal Schumacher?
David Dayton: They should be playing either the American or Italian anthems, then.
MEGAߥTE: Do you mean in use or for sale? I haven't seen any in use since sometime around the late 80s. I have seen many on eBay, as usual.
Lizard Dude: That guy is awesome. And I don't mean awesome in the corrupted, diluted sense that it has today. I mean awesome, provoking a sense of awe. The SMW Castle and SMW Athletic in particular made me spin around, slap my head repeatedly, and yell, "z00000 z00000 z00000!"
A few comments, 1) Someone should tell him to play the SMB Overworld at its real tempo. 2) SMB2 Overworld is not to be left out! 3) Put on some clothes, preferably red shirt and overalls. :P
And just in time for 9/11, here's the same guy playing his own piece, "Images of 9/11" Or go here for a few more videos.
Deezer: The only VsSMB I saw in real life was at my local roller skating rink. :-\
David Dayton: I've seen a few Vs. SMB units, but I've never understood WHY SMB was a Vs. game. It doesn't make any sense. I've never seen a dual cabinet or duel screen SMB Vs. game being -used-... I have seen a dual cabinet SMB unit, but I don't think that changes any aspect of it.
MEGAߥTE: That's why it was a Vs. Unisystem game, not Dualsystem...
MEGAߥTE: Considering I've scanned in several samples of those comics for our mailbags, of course I believe it. My comic book doesn't have "Bowser knows best" but it does have several other comics with the Koopa Kids. I don't remember Larry being in any of the other ones with speaking roles, at least, so I don't know why he talks like that. I guess he's "special."
David Dayton: I picked up a hard bound collection of those... They are horribly horrible.
Mushroom Boy: Their puns are better than yours.
Chupperson: And this guy says he's an English teacher.
MEGAߥTE: That does look promising if it already works that well. What if you need to go backwards though, do you need a mirror so you can see what you're doing?
Since somebody doesn't know how to code properly on the Physicam page, here are direct links to the videos: #1 #2
Lizard Dude: When I watched the first vid, I desperately wanted the host to do something besides run into a wall. The second delighted me.
David Dayton: The fact that they are playing SMB roms on television is rather amusing.
Mushroom Boy: P.S. Here's a better scan of the Far Side strip than the one the reader sent in. I posted this in a mailbag over 3 years ago and it never got added to Mario Mania. See what kind of slackers I have to deal with?
MEGAߥTE: (1) It was used in games before that, though it was more common as an indication of player (Player 1 = 1UP, Player 2 = 2UP). Wikipedia has a small discussion on the origins of 1-up, but doesn't say which game first used them as items.
(3) Don't use Windows Media Player.
P.S. Heh, that date is less than a year away now.
Lizard Dude: [2] We actually like Sightings now. Just send them to me instead of the main mailbag maybe.
(3) But seriously, the problem is probably not actually Windows Media Player.
[4] Whoa, that commercial is pretty good. It's a lot like the Mario & Luigi commercial, though.
Deezer: I think we've always liked sightings, but "liking" and "updating" are two different things...
Lizard Dude: Mere semantics shall not stop me.
David Dayton: 1) It existed previously. 2) If you say so. 3) Microsoft is evil. 4) That wasn't that bad, although I'd doubt that CG would be -cheaper- than actors.
Deezer: This is explained on the top of the commercials page. Basically, GameSpy has this FilePlanet thing for its hosted sites to try to keep their bandwidth usage to a minimum.
You'll need to sign up for the GameSpy ID to be able to download commercials. The ID is free, and there are free downloading options for the files as well.
David Dayton: Yah. It's a necessary evil... Although we COULD try to use archive.org...
Deezer: "In da hizzouse!"
MEGAߥTE: You included a bunch of random TMK visitors, but not me? You suck.
David Dayton: Oddly enough, I am unable to download this.
Chupperson: You could consider yourself lucky.
David Dayton: Truly, I wish I knew the answer to that.
Deezer: This guy sounds familiar...
Mushroom Boy: The bum didn't write any last time, but we apologize for rectifying that issue for this mailbag.