Mailbag
24 Mar 2005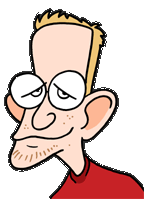 Deezer
Sminty
---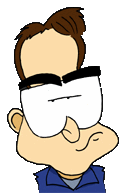 David Dayton
Missed one
---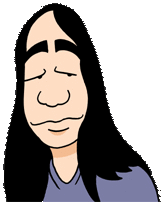 Chupperson
Like a caffeine addict on speed!
---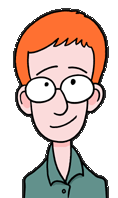 Lizard Dude
Not really a lizard guy
---
MEGAߥTE
Bonkus websiteus creatorus
---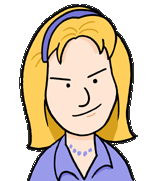 Sapphira
Super Smash Sister
Got something you want us to answer next time? Send it in!
Deezer: Hey, Watoad! \:D/
Wish #1: Infinite knowledge. Wish #2: Infinite riches. Pretty boring, I know.
David Dayton: What in the -world- inspired you to ask such a question?
Chupperson: Build my own zoo.
Lizard Dude: Nothing.
MEGAߥTE: You could have a small country named after me.
Sapphira: You mean something like this? Sure! Thanks for the idea! :D
David Dayton: "It"? Whatever are you talking about? In any event, I'm not overly fond of a Sonic appearance in a Mario game... unless he appeared in the new Namco/Nintendo arcade Mario Kart title, along with Pac-Man.
MEGAߥTE: It's almost inevitable. Maybe Naka will finally get his wish in SSB3.
Lizard Dude: I wouldn't mind. It would be interesting.
David Dayton: I don't think they were given names.
Deezer: I am yelling at you for not sending this to the sightings section. Anyway, it's not even close.
David Dayton: Overalls aren't enough to make something a Mario reference.
Lizard Dude: A creation from a stereotypical mold becomes the mold itself.
Deezer: *breaks the mold over Lizard Dude's head*
David Dayton: I liked SM64 DS, so I'm not the person to argue with you on this point. I have no idea what's going on in Luigi's Mansion... perhaps a robot body? The Koopa Kids are almost forgotten these days, although they did reappear in Superstar Saga. Waluigi had a few minigames in the Mario Party-e game, you know.
Chupperson: 1) Wario can't jump.
2) It was a magical scary Bowser suit.
3) They didn't have full motion video cutscenes when SMB3 came out. Maybe if they did, Mario and Peach would have acted surprised. Who knows?
4) King Boo looked terribly stupid in SMS, also. He looked awesome in Luigi's Mansion though.
Sapphira: 4) Perhaps they're different King Boos. *shrugs* It seemed ALL the standard Mario enemies that appeared in SMS looked ....warped. Maybe it's Isle Delfino that did that...it seems to have weird effects on creatures, i.e. the Yoshis "melting" when they enter water. That wouldn't happen to "normal" Yoshis... Hmm...I've gone off-topic now, so I'll stop. Yes, King Boo's appearance in LM was awesome.
5-7) Ugh, no more questions.
Lizard Dude: 1) Wario'll show up wherever treasure is to be found.
2) It's a costume.
3) Because he said that he was the son of Bowser and Peach.
4) I didn't really notice.
5) Petey Piranha, because he has more experience.
6) Tatanga. Space technology beats the power of vegetables anyday.
7) A Bowser game isn't a bad idea.
David Dayton: Wario is greedy, and is always smiling in anticipation of finding his next pile o' treasure.
Or something like that.
Sapphira: He frowns when he loses in the Mario Party games--his character icon, not the polygon model.
MEGAߥTE: Botox.
I don't know if a 3-D version of classic Donkey Kong would work very well... unless it was something crazy like a dance mat version.
David Dayton: I think the use of "world" is somewhat symbolic as opposed to literal.
Chupperson: The myriad worlds in SMB, SMB2j, SMB3, Yoshi's Island, and elsewhere, are all part of the Mushroom World.
Sapphira: P.S. Heh, thanks. It's annoying, huh? >_< I did suspect you may have been a girl, but I wasn't sure.
Lizard Dude: Anyone who signs their letters with a rose gets logged as a girl in my books.
David Dayton: Daisy is "fat" in MGTT? That's news to me.
Sapphira: I like Daisy; she's cool. I agree, though; I like her appearance in the N64 games better than in the 'Cube games. Her new dress design and the change of her brooch and earrings is just....ugh. I like both of her hairstyles, though. But her face...it used to be so much prettier, although I like that the irises/pupils of her eyes are bigger now...other than that, no. Naw, I just can't picture Mario and Daisy together. And I do think it'd be cool if Daisy at least made a cameo in a Mario adventure game.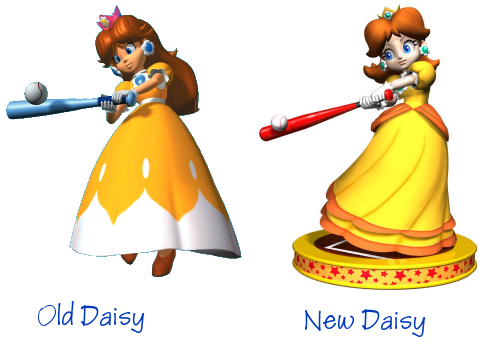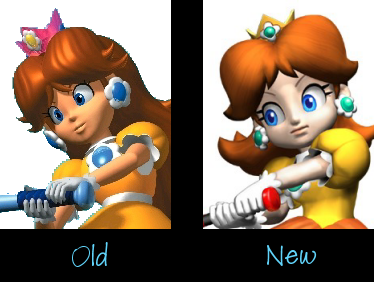 MEGAߥTE: David obviously hasn't seen my potbellied Daisy screenshot. I'm not sure why Nintendo uglified Daisy recently either. They made her face look like she has fetal alcohol syndrome or something. Actually, I didn't like her N64 model either.
Deezer: Hmm, Daisy got an un-tan.
David Dayton: You can shrink in SMK, you know. That might explain the Yoshi part. The Wind Waker thing is just a joke by EGM.
Chupperson: 6) Clean your NES.
9) He stopped and started the recording many times. We've already been through this.
Sapphira: 3) Hasn't this been asked before? I watched one of them when I was really little, but sadly, I don't remember it other than the fact that I watched it.
5) I don't.
MEGAߥTE: 2) Very unlikely.
3) Yes, all of them.
4) We already did.
5) Yes.
7) Yes, despite the fact that it came out in February, that was an April Fool's joke. It's getting to be like sports games or car models.
David Dayton: In Japan, there were really only two unique Super Mario Bros. titles on the Famicom/NES: Super Mario Bros. and Super Mario Bros. 3 (SMB2 was more of a disk system "special version" of SMB). The Famicom got as many Mario games as it did because of its rather lengthy life as a system... the newer Nintendo systems have had a much shorter life span, and as a result they have fewer Mario titles.
Chupperson: SMB2j had all new levels and Luigi with different physics. And some different graphics.
MEGAߥTE: I do agree that I'd rather have more traditional Mario games than all these spin-offs, and I think Nintendo does plan to have more than one per system, but they never finish them in time before the next system comes along.
David Dayton: I'd like to see a "Mario Classic Games" collection for the DS, featuring chess with Mario themed figurines.
I know. I'm weird.
MEGAߥTE: So basically you want a DS version of Mario's Game Gallery.
David Dayton: I'm confused... on which box did you see the "face", and what do you mean by "Mario's button"? On his overalls?
If Nintendo allowed you to play all your older cartridges on a single system, I do think it would sell.
I am curious as to what you mean by knowing how I got my name.
Chupperson: Come on, David. Everyone knows you love the Daytona 500.
As for me, it's very simple. Chup person. A friend of mine made up the name.
I already own all the Nintendo systems except Virtual Boy, and I guess Pokemon Mini. Aside from myself, I guess some people might buy it.
Sapphira: I see what he's talking about. On the SSBM box, on Mario's right button of his overalls (our left), the way the light relects off it looks sort of like a profile. It's probably just the way the lights shining on it, nothing more.
Sapphire is my birthstone and favorite color. I heard "Sapphira" was an actual name--and quite unique--and I liked it--especially the feminine "a" at the end. Yes, there was a topic on the FF about this, but it was a LONG time ago. Oh, and I'm curious to know how you got your name, Deez. Chup, you may want to clarify what "Chup" is actually about. :P
D.S. If there are going to be a bunch of questions, though, I MUCH prefer them to be numbered than all jumbled together. Makes it much easier to respond.
D.D.S. Whatever kind we find in the dumpster. *laughs evilly*
Deezer: "Deezer" came from my dad. When I was younger, he would call me "D" for short, then eventually he added "zer" to the end of the D sound.
Lizard Dude: I needed a name to use for my first online PC game, HoverRace, and pretty much arbitrarily chose Lizard Dude. I have no especial fondness for lizards. A bit later, I used Lizard Dude for the online matchmaking service, Mplayer, and it stuck ever after. One of the default avatars on Mplayer was a dude with scaly green skin, which I used. The Play-It-All system would raise some interesting issues about actually rereleasing old games in their original form. It would also devalue classic ports to modern systems.
Chupperson: If people don't know what Chup is, they need to look around at the craze sweeping the globe.
MEGAߥTE: When I first logged into a chatroom in 1996, I needed a nickname and wanted one relating to computers since that was what I was most interested in. I chose "byte." Well, I logged into this room from a public library, and somebody I met there decided to use my nick and get a bunch of people mad. Because of this, I "upgraded" my nick. I started to use Meg@byte, with the @ so cleverely replacing the a, but too many people just read the Meg part and assumed I was female, so I decided to change the characters in my nick. Weird extended ASCII characters were popular at the time, but I still wanted my nick to be readable and not have any overhangs or accents (so it could fit nicely in a rectangle for a logo). It so happens that the two characters that I chose are also representative of my background. I have Japanese and Polish ancestors. The ¥ in my nick obviously represents the Japanese side, being the Japanese unit of currency. The ß is part of the German language that represents a combination of the letters s and z. "sz" is common in the Polish language and also happens to be found in my last name.
As for the face on Mario's button... I don't have my SSBM case with me, but from looking at the (poor quality) ones online, it seems like it could be the reflection of Samus's helmet. Incidentally, you can see a reflection Yoshi's Island on the Metal Mario trophy and a reflection of a scene from Super Metroid on the Metroid trophy.
David Dayton: Mario will never die... not as long as he can stomp on turtles nine times or more.
Chupperson: Why would you be forced to play new games?
Sapphira: NEVER GIVE IN TO PEER PRESSURE, MAN! BE YOUR OWN INDIVIDUAL! ....but don't go TOO far... >_>;
Chupperson: Mr. EAD is not Mario. That's what I think.
MEGAߥTE: 1) The game you're looking for is Jump Superstars. The info is everywhere.
Deezer: 3) I don't think it's a cameo because Mr. EAD is only based on Mario.
Sapphira: 2) Because you are. Your randomness and ...random way of ranting is freaky. This letter is an improvement. XD *runs away*