MEGAߥTE
Newsaholic
---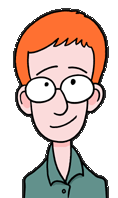 Lizard Dude
Where'd he go?
---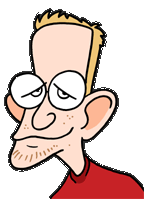 Deezer
Cheesed
---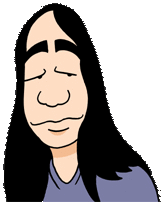 Chupperson
オタク
---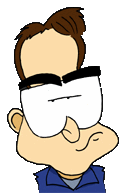 David Dayton
2400 baud
---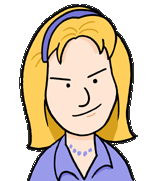 Sapphira
Fashionably late
Got something you want us to answer next time? Send it in!
MEGAߥTE: Certainly not. It wasn't necessarily the end-all of Mario games, but it didn't "suck."
Lizard Dude: No way. It was what we've been waiting for (and people have been complaining for) for years and years. During the N64 and early to mid Gamecube era, everyone whined and whined in the mailbag and forum that there were no new 2D Mario games. That's all they wanted, they said, and yet none ever came. Now we have, what, Super Princess Peach, NEW Super Mario Bros., Yoshi's Island 2, and Super Paper Mario? Your collective prayers have finally been answered. As for the game itself, I thought that NSMB strongly evoked the spirit of the original SMB, brought back tons of neat enemies (Boomerang Bros., anybody?) and had lots of secrets and tricks. Plus the multiplayer minigame mode is one of the most fun multiplayer experiences I've had on DS, and that's saying a lot. So nah, didn't suck.
Deezer: I liked it.
Chupperson: New Super Mario Bros. excels at what it attempts to be, which is a 2D Mario platformer. I enjoyed it quite a bit.
Sapphira: Am I the only one who hasn't played it yet? ;_;
Chupperson: Where have you been?
MEGAߥTE: Yep. I wonder why Germany got it years ago and we're only getting it now.
MEGAߥTE: I believe they just make a mistake, though I don't know where they got the name "Kerog" from-- it does show up in Japanese occasionally as a name translated from "Kellog," but I don't know what that has to do with anything. "Kero" is Japanese for the sound frogs make, which isn't a very good connection, but it's the most likely thing I can find.
Lizard Dude: This was covered in past mailbags, if you want to search for more info. We didn't get too much concrete information, but there were a few more interesting possibilities of where the name came from.
********BLURRY PROFANITY WARNING********
David Dayton: The perils of barely mastering a foreign language.
Sapphira: Why is this in the mailbag? The profanity in those links makes my eyes bleed. !stab Shmorky
MEGAߥTE: More like, the perils of licensing your characters.
Chupperson: It's in the mailbag because Shmorky sent it to us, and it's an interesting look at what can go awry when you make random animes and then make soundtracks from them. Or something.
Lizard Dude: The classic swear-words-not-having-as-much-impact-in-foreign-languages situation.
David Dayton: SMB only has a "-1" level, and that's only due to a bug in the game.
Chupperson: I thought we told people what the Secret Site was in a previous mailbag.
Deezer: Re: SMB3 lost levels: World 5-6 does have those platforms, but not stacked as seen in lost level #15. I just now added "stacked" to the map description to make it less vague.
MEGAߥTE: There is a -2 and -3 in the Famicom Disk System version. A Game Genie is a device that changes specific memory location values in a video game, allowing you to perform very minor "hacks" of games, and was usually used as a cheating device.
David Dayton: I suppose I could consider trying that at some point -- it does sound interesting.
YOU DIRTY CHEATER.
Chupperson: I've always been interested in the beta mushroom enemy. Perhaps I should get an AR and try this out.
MEGAߥTE: Thanks for the info guys. We're always looking for beta information and should have some updates for you soon.
MEGAߥTE: I don't have any special areas for game systems. If I use it on my TV, I'll probably put it on top of that. If I connect it to my computer monitor/sound, I'll probably put it on my computer tower -- it's kinda like having another CD drive.
Chupperson: Somewhere on here.
Deezer: I haven't figured that out yet, but I'm sure I'll keep my Wii in the vertical position. Why stop now?
Sapphira: I kind of just group my consoles around the TV wherever they fit.
Lizard Dude: I don't plan that far ahead into the future.
MEGAߥTE: You are correct. Thanks for catching that!
MEGAߥTE: Yep, Mario Forever was nicely done.
Chupperson: I'm glad I wasn't implicated in this crime.
I think "staff" is the proper plural here.
P.P.S. Tron and Nausicaä of the Valley of the Wind, and Princess Mononoke are probably up there in the "favorites" right now. The last may be due simply to it being the last movie I've seen and liking it a great deal.
P.P.P.S. Aside from my aforementioned affinity for Miyazaki films, yes, Lizard Dude made me like Yakitate!! Japan.
MEGAߥTE: P.P.S. Films are so varied; I wouldn't be able to narrow it down to just three. I can, however, say that my list wouldn't include any of your favorites.
P.P.P.S. I'm finding that I like BeeTrain produced shows. Madlax is my favorite anime so far.
Sapphira: dot dot dot
P.P.S. Rocketman and Goldmember have always been up on my "favorites" list. Um...Star Wars movies (particularly the original trilogy and Ep. 3)... Recently I watched The Incredibles and The Lake House, and those were really good. I wouldn't say I have a particular "favorite" movie, but there are many I like.
P.P.P.S. Never really seen any, so I don't know. *GASP*
P.P.P.P.S. :o
Chupperson: He said three favorite, not eight...
I wanted to add that it's hard for me to name a "favorite" of almost anything, so my list may be a trifle inaccurate. But for the moment, I don't think it is.
Lizard Dude: Man I hate it when the piano wire gets all tangl-- Oh, hello. My favorite movie is Kung Pow: Enter the Fist and my favorite anime is Yakitate Japan!!. Midori no Hibi (aka Midori Days) and Suzumiya Haruhi no Yuuutsu (aka The Melancholy of Haruhi Suzumiya) tie for second place.
MEGAߥTE: We do, if they are good enough. Hopefully yours are better written than your letter...
Deezer: We're not sure either. I've asked Nintendo of America about this before, but they "do not have any information concerning the first Donkey Kong arcade game." I find it odd that no one at NOA knows the date of their most important game release of all time.
MEGAߥTE: The emulation section in general has been on the back burner for a while. We'll consider adding those in the future.
Deezer: What's wrong with the Super Mario Sunshine description in the History?
Chupperson: What's the History?
Lizard Dude: What's taters, precious?
David Dayton: No, I haven't seen it. Perhaps someone else has and will write in about it?
David Dayton: I like cheese.
Chupperson: Play Super Princess Peach.
Deezer: Why do we let David answer mailbags again?
Sapphira: What Chup said. I like meat.
Deezer: I remember that. It seems this Miyamoto fellow knows what he is doing.
MEGAߥTE: Nothing was outright amazing to me, but Super Mario Galaxy was the best Mario game shown at E3. Even though I'm sure Super Smash Bros. Brawl will be totally awesome and I'm looking forward to that most, I won't count that for this year because it wasn't playable.
Chupperson: Super Mario Galaxy was the most fun I had at this year's E3.
Sapphira: Galaxy looks most enticing to me, but SSBB and Yoshi's Island 2 look like they'll be a lot of fun, too. The only thing that concerns me about YI2 is why the dukar they have Baby Donkey Kong in it.
Chupperson: Because... he's a good idea? He makes Yoshi's eggs more powerful. And he makes Yoshi unable to duck. Go Baby Donkey Kong!
Lizard Dude: I anticipate WarioWare: Smooth Moves with the greatest excitement.
Deezer: 2. Maybe. I'd rather focus on the content everybody can find.
MEGAߥTE: Mariopedia got too big to easily manage without a database. We're solving that problem right now, and hope to have an updated Mariopedia very soon. It will take some time after that to add entries for new games, but we hope you'll be pleased with the results when we finally do finish!
Sapphira: x___x
Deezer: I plan to relaunch the Mariopedia this month. After that, we'll... wait, where'd Sapph go?... Oh no, man down! Man down!
MEGAߥTE: Just mail them to staff. We'll be trying to update the glitches section soon. For now, enjoy some of the ones that other readers have sent in:
MEGAߥTE: David Wonn's Unique Video Game Glitches has this information:

Okay, go into Cheese Bridge Area with a Yoshi. Go down that blue pipe. When you get out, go left until you come to this screen.
From there, run left and kick away Yoshi (UP+Y) and if you want, press A while in mid-air while in the middle of the bridge on the left and the rail to the right. Occasionally, you will grab an invisible rail and move right. You will fall off. Finish the level and this is what you will see when you come out of the level.
Just enter any level now and you'll be riding on a weird thing like this.
Deezer: I've never been able to reproduce that glitch. >:-\
David Dayton: I really need to go finish Super Mario 64 DS at some point.
David Dayton: Nifty keen!
David Dayton: Yo Yo, Yoshi. Etc..
Chupperson: I found all of these years ago. And more.
Sapphira: 1. How many arms do you have?
2. Can you give me information about your favorite video game?
3. Are you really a 50-year-old pedophile that lures children from the intarweb into your gingerbread house?
4. Who is the awesomest person in the world?
5. When was the last time you bathed?
Chupperson: 4. Who just had to reply to this?
Lizard Dude: It's in honour of opposite day, so Sapphira was really saying she is not the least awesomest person in the world. Remember, opposite day doesn't apply to these sentences, too.

Discuss this mailbag in Fungi Forums
Got something you want us to answer next time? Send it in!