MEGAߥTE
忍者
---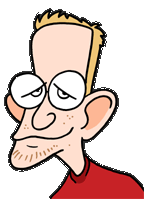 Deezer
Intergalactic
---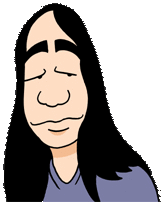 Chupperson
Death by finals
---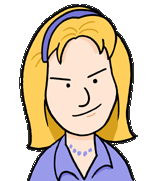 Sapphira
Super Sprite Saga
---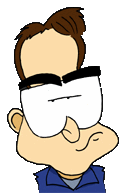 David Dayton
Still fired
This edition includes guest appearances by Fungi Forum moderators Luigison and Suffix.
Got something you want us to answer next time? Send it in!
MEGAߥTE: Yes, please stop. The same goes for everyone mailing us about the Mario anime.
Deezer: Unless you're mailing to say you'll donate a copy of the Mario anime, and then actually send it to us.
Luigison: I'm going to start putting "(message truncated)" at the end of all my emails to make people wonder what they missed.
Chupperson: Was this not covered already as an "I doubt it" by Deezer?
Deezer: Yes, this was not covered already. Er... I mean, NO, this was not covered-- erm, waitaminute... Anyway, I'll cover it again: I doubt it.
Chupperson: 1. Don't think so.
2. Yoshi's Island was only Super Mario World 2 in America, not in Japan. So no.
4. Because they used different sprites for the original versions of the games too.
MEGAߥTE: 4. Probably because the games were ported by different people.
Suffix: 3. Sure, sure, but it's still an awesome game and a good one to take on trips.
5. I knew about this one! It was a livesaver for some trips. I don't know about the SNES version, though, as it has been a while.
X. How are you gentlemen? Surprised to see me? I was.
Luigison: 1. It's a secret to everybody. I mean. No.
Sapphira: 2. How about this? Super Mario Advance 5: Super Mario Bros. 5: Super Mario World 3: Yoshi's Island 2: Yoshi's Island DS. I think it's kind of catchy.
3. They make little mistakes like that all the time, which really grinds my gears.
Chupperson: This is why I never did any fanfic updates.
Suffix: Logic? My God, the man's talking about logic! We're talking about Mario games! You green-blooded, inhuman... Well, sometimes we have to forget errors in stories, as the real focus is how the story works with the game. And I assure you, the very loose Mario saga works with each game fine. As for your greater entity, I'm pretty sure that's good ol' Shiggy. He's fulfilling his job duties.
Sapphira: *GASP* Suffix said God's name in vain! I am shocked! SHOCKED!
Chupperson: Pot luck: Burritos with cheese and green sauce on top.
Karaoke: Lithium Flower from Ghost in the Shell: Stand Alone Complex.
Deezer: Potluck: I can't cook. :(
Karaoke: I can't sing. :( :(
Suffix: Pot luck: a few gallons of ice cream.
Karaoke: I can't sing either, but if I had to, I'd sing part of "Katamari on the Rocks." I've been practicing. And no, you won't hear me sing it unless there's a real TMK karaoke party.
Luigison: Potluck: Leeks. Karaoke: Leek Spin. On the two occasions I went to E3 several TMKers brought various foods, but nothing special that I can recall. The SMB theme was hummed though. I think it's on TMK somewhere.
Sapphira: Potluck: Stuffed mushrooms. Karaoke: Backstreet Boys - I Want It That Way. >;)
Suffix: AAAAAAAAAAAAAAAAAAAAAAAAAAAAAAAAAAAAAAAAAAAAAAAAAAAA (inside joke)
Chupperson: Nope.
Luigison: W:MoD is almost as good as Mario is Missing. It should have been called Wario: Master of Disappointment.
Deezer: Hey, that's my line!
Chupperson: 2. No. It is an April Fools joke.
Suffix: 1. I recall a certain "Troubles mission" thing that involves that house.
3. Wasn't there a riddle for this? An agonizingly cryptic riddle?
Luigison: It's a secret to everybody. Well, at least it's a secret to you and Suffix. Which reminds me, I need to do an update.
Suffix: What? I found the secret page ages ago. Or at least, an age ago.
Sapphira: 3. "It's mostly pornography."
*Waits for Deezer to provide the same hints he's already given DOZENS OF TIMES*
Deezer: 3. What once was lost, now is found. Or is it the other way around? Run to the end... Look to the sky... Don't try to jump, it's up way too high. Nine of us in all, unlocked by the sound.
Suffix: Not bad, actually! Still, I think you could use some better buttons (a bit plain looking). I have no experience in making these skins, though, so don't let me get you down.
Chupperson: I use Winamp.
Chupperson: Just one question: What's a glith?
MEGAߥTE: You should probably ask saff.
Suffix: That's a pretty terrible lisp you've got there if it bleeds into typing, but I think these deserve investigating.
Sapphira: Well, it's actually spelled "Sapph," but, um, you can, but maybe putting them on TMK would be better.
David Dayton: He'd blow his magic whistle, warp to Hyrule, give it back to Link in exchange for the red tunic.
Sapphira: He'd attack you with it and scream, "1 button > 2 (not in actual numbers)!!"
Chupperson: Hey, you know, you've got a point.
Suffix: You're right, but don't overdo the dextromethorphan, sir. You might catch a death of cold medicine.
Sapphira: Whoa, your deductive skills are truly amazing. I'm impressed!
Chupperson: Mario Kart and New Super Mario Bros. I also like Super Princess Peach even though it isn't in the league of most Mario Platformers.
Deezer: I'd recommend Yoshi's Island DS.
Chupperson: I would too if not for the fact that it bored me to tears.
Luigison: It saddens me that SMB3 isn't in your top five. I especially like the addition of the e-World levels in the GBA version. It also saddens me that Chupperson hates good games. Yoshi's Island DS and NSMB are both good. For GCN I recommend Paper Mario: The Thousand-Year Door. It's my favorite Mario RPG. The spin-offs Dance Dance Revolution: Mario Mix and WarioWare, Inc.: Mega Party Game$ are also good.
Deezer: I can see where Chup is coming from, but for the most part I enjoyed YIDS.
Chupperson: It's just hard enough that you manage to get an extra life every time you die, so you keep going through the same tiny portion of game trying to get that one red coin.
MEGAߥTE: Really, they should have just scrapped the extra lives concept completely from that game. But at least they finally gave us challenge.
Deezer: *BoOM*
Chupperson: If it manages to break off just right, it might get caught in the pull of Earth's gravity and ... *squished*
Sapphira: I guess this means no more "full" moons. :(
Suffix: That's nice, but can your brother and you (I) also do pretty good imitations? Speaking of imitations, can you do an imitation of Mario imitating Darth Vader? It's been done by the man himself.
Just trying to make this email worth more than a rain check...
MEGAߥTE: The Mushroom Kingdom as a gateway to the Mushroom World implies that they are distinct entities as you surmised. This was further supported by Nintendo of Europe's Mario site, which actually plots the relative location of the various lands on a globe. Of course, there's a pretty good chance that Super Mario Galaxy could change all that if the planet is explorable. It's probably likely that the lands of Super Mario RPG overlap with some of the lands from other games as the NOE map doesn't give a special spot to the locales of Super Mario RPG. Also, the setting of Super Paper Mario is an alternate dimension, so that could also help in trying to understand the geography of the Mario games.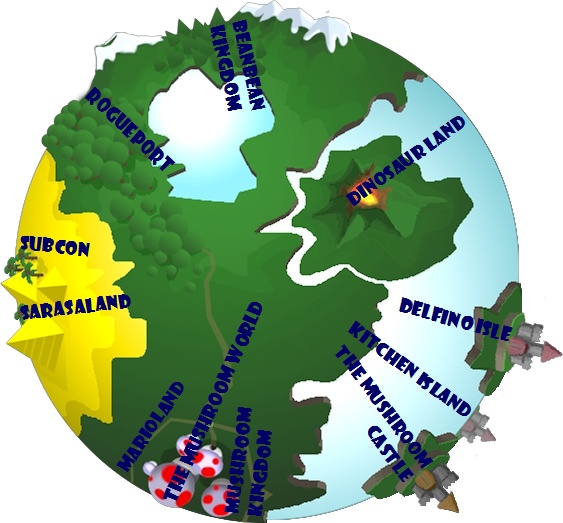 Chupperson: I toyed around with trying to put together maps a few years ago. Nothing ever came of it, though. Don't forget Dinosaur Land.
Sapphira: I did the same thing several years ago. Of course, it's out of date now, anyway. I tried recreating one but gave up.
Anyway, Shooting Star Summit becoming Stardust Fields wouldn't really work since the former appears to be east of Peach's Castle, and Beanbean Kingdom, according to its map (and compass), is south/southwest of Mushroom Kingdom. Then again, upon closer look, Paper Mario's map of TMK doesn't have a compass...
As for King Toadstool, who knows? Apparently Toadsworth has mistakenly been referred to as Peach's father? M&L2? How old is this letter?
Suffix: Well, Markio, (spoilers!) this is as good as I can do for you right now. I don't have a capture card myself, but I'll have one by June. Also, I think the missing pictures of Bowser in MG:TT thing is more up Sapphira's alley.
Sapphira: I think our screenshots usually come from official sources, so that'd explain the lack of SMS Bowser battle shots. As for pics of Bowser from MGTT, if you're talking about screenshots, that's not really my domain. If you're talking about game art, wow, you're right; there isn't any of him. :(
Sapphira: There's an animated GIF section on the site, which is largely ignored. The Mariopedia will be "upgraded" sometime... with certain aforementioned game sprites being worked on at the moment...
Chupperson: Good thing this was for last year. I don't think it would fly this year.
Sapphira: *Shudders* We do NOT need any more edutainment games! Keep the Mario Universe separate from the real world.
Luigison: I think we as a society in general might need edutainment games, but I don't want anything like Mario is Missing. A game like Typing of the Dead with 2D Mario platforming might be interesting, but we should probably leave the Mario game ideas to Miyamoto and Nintendo.
Chupperson: ... Mario Teaches Typing already happened.
Suffix: Micro goomba, heh. I forgive you, and come on back someday! The domain's not changing any time soon.
Suffix: Clever. However, I think you should check up where I taught Austin the Vulcan about the meaning of taking things with a grain of salt. Or perhaps, the entire shaker.
MEGAߥTE: 1. The source is the SMUSA manual, which oddly contained both Japanese and US names for the enemies and was mostly a direct translation from the US version.
2. You are correct. This was sent to us by a Japanese TMK visitor named Sayunu:
It's stated in your interesting website that Birdo is female, but it's a common sense among Japanese Mario fans that Catherine is a male. I think it'd be nice if you add some information about that on your website, like what you did for Vivian. I was surprised to read that he's now female in the English versions....
For reference, have you read the description for the Catherine trophy in SSBM in Japanese mode (which is written by that computer-game-savvy Mr. Sakurai himself)? It says "Jibun wo onna-no-ko da to 'omoi-konde' ori", which roughly means "Catherine 'erroneously' thinks him/herself a girl". "Omoi-komu" technically means just "to believe", but this word tends to be used to indicate suggestively that the belief is wrong. In this context the word is in quotation marks, so it is clear for native speakers that it is being used in that sense.
I wonder why, in English speaking countries, they rushes for a conclusion that Catherine is female. Because her name is "Catherine"? But I think that that is merely how she calls herself. I don't think each Subcon people has their legal name under something like "Subcon Naming Law". But I came to think that, even with the Japanese setting that Catherine is male, it is more proper to refer to her as 'she', since she likes that. What matters is not the physical gender but the spiritual one, I think.
Anyway, one of the reasons why gender-bending characters are more accepted in Japan may be that we rarely use words like "he" or "she" in our language, so someone's true gender doesn't matter. We generally drop subjects of sentences, refer to the subjects by their own names every time, or just say "self" instead of "him/herself". Japanese Catherine fans and Vivian fans seem not to mind the girls' physical gender.
I also have some information for you about why Boos are called Teresa in Japan, if you don't know yet. In Japanese, "tere(ru)" is a verb that means "to be shy" or "to be bashful". "Tere" is the word stem and "ru" is its end-form ending. This describes why they are so shy that they can't look at Mario's face. And I think this is meant to be a comicality that, though normal spooks spook or scare humans, they can't, and even they are scared by humans.
Sapphira: Whoa, interesting stuff.
Deezer: Ganntastic!
Suffix: Is this how we're going to end all our-- I mean, the mailbabs now? And if so, can I laugh hysterically? I must say, Mr. GANN has some pretty plabbed submissions. Note that I respect his concealed intelligence, however.
MEGAߥTE: DXM FTW.
Sapphira: What. The. Dukar.
Luigison: This email could have used a "(message truncated)".

Discuss this mailbag in Fungi Forums
Got something you want us to answer next time? Send it in!