MEGAߥTE
Custom titler
---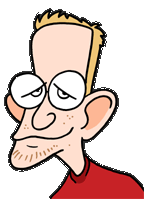 Deezer
Impending Doom
---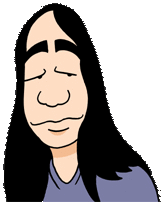 Chupperson
Backlogged
---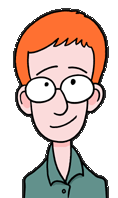 Lizard Dude
Kept for history
---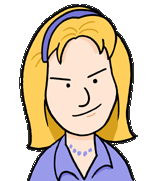 Sapphira
O_o
Got something you want us to answer next time? Send it in!
MEGAߥTE: 1) IGN wasn't our sole source of entry into E3.
Luigison: 2) I've played about 36 hours, but I am far from completing everything. I've been on the last world for a while now and could probably beat it fairly quickly, but have been spending time on completing maps, cards, recipes, etc.
Deezer: 2) It was a little over 20 hours with a good amount of exploring and no sidequesting. Now I'm at about 48 hours and everything done except cards and recipes, which I am not going to attempt to finish.
Chupperson Weird: Maybe it's not always the same Birdo.
Deezer: 2. Congrats!
5. It's just you. I hope.
MEGAߥTE: 5. Actually, it's not just you. There was an entire Japanese website dedicated to Mario squatting over the coin at the top of the screen. They had even come up with names for the positions, and it seemed like these were somewhat well known. I can't find the website right now, but I believe that they did notice 18-Volt's intro... the bigger question is whether the developers were aware of this odd bit of pop culture and intentionally included a tribute.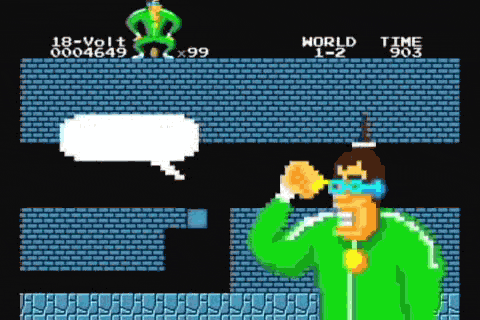 Lizard Dude: 1. That reminds me, I have a five o'clock dinner date with Heimdall tonight.
3. a) Nah, it helps people remember you if you always wear the same stuff. b) Keep the same one, for tradition and good luck.
4. Aren't we all just a little gay, deep down on the inside?
Suffix: 3a. Consider yourself fortunate!
3b. Not unless you can find one.
4. I can't remember a time since Super Mario Brothers 2 that Birdo was said to be male. Perhaps I will just take Chupperson's approach.
Sapphira: 1. Um, 'kay.
3a. A bit obsessive, I'd say. Nothing wrong with having lots of Mario shirts, but I'd get some non-Mario (even non-Nintendo) shirts to keep things fresh. That way people will be like, "Oh, what a cool shirt!" when you wear one, rather than, "Dude, is that all you like? That's all you ever wear."
4. LD is gay! I knew it! Anyway, actually, it seems there are two different Birdos within M&L:SS--the one whose voice was stolen (and apparently never given back), and the other who battles alongside Popple (and doesn't speak with explosives). This would show that Birdos are a species rather than just one individual (which was actually apparent since SMB2, with pink, green, and red variations). Perhaps the Birdo from SMB2 is male, and the Birdo (Popple's rookie) in M&L:SS is female (and possibly the same one from more recent games). So yeah, an expansion of what Chup said.
5. O_o
P.S. *Dropkicks Mars*...*and Tyler*
Deezer: 5. OK that looks like it hurts.
Chupperson Weird: The plot is, some kid is playing with figurines of Nintendo characters.
Deezer: Plot: Nintendo stars clash in a tournament of PURE AWESOME.
Lizard Dude: What Chupperson said, except in the end the figurines revolt against their cruel overlord and beat his hands to a bloody pulp. It's kinda like Toy Story!
Chupperson Weird: He's actually been the subject of several low-budget TV documentaries and fled further into the underground caverns of Canada to escape his newfound popularity. He was last seen participating in a revolutionary mind control experiment as one of the first 13 volunteers (the first 13 got extra retirement benefits). He hopes to eventually be able to move large boxes of styrofoam packing material with the sheer force of his will. Unfortunately, since it's mind control (and not control via mind), he's being brainwashed instead.
Deezer: I noticed it too. It made me smile.
P.S.: He is actually helping us out a little with the Mariopedia relaunch.
Chupperson Weird: I like the music from Super Metroid.
Lizard Dude: Zero Mission is one of my favorite games of all time. They're all pretty nifty. Say, that reminds me: where's my 2D DS Metroid?
Deezer: My favorites from the series are Metroid Prime, Metroid Zero Mission, and Super Metroid. I've never played Metroid 2.
Suffix: I had enormous amounts of fun with Metroid Prime. The game just suited me well, I think. I also have Metroid Prime Hunters, which I am fairly talented in.
I, uh... I've never actually owned one of the 2D adventures. *glances downward*
Sapphira: I don't have any of the Metroid games, nor have I played any except for a Metroid Prime demo... >_>; That game was fun, though, and I've thought about buying it...eventually. So, um, I guess I'm indifferent to the series, in general. I need to play more games.
Lizard Dude: Dude, I had the exact same problem with that stupid bridge.
Deezer: Me too. That stupid bridge outsmarted me.
Chupperson Weird: Even though I haven't played The Thousand Year Door, I still gotta say... that stupid bridge!
Sapphira: Interesting... Hey Chup, don't you OWN that game? And you still haven't played it? WTD?
Chupperson Weird: No, I do not own that game. That said, however, there are many games I own and have not played.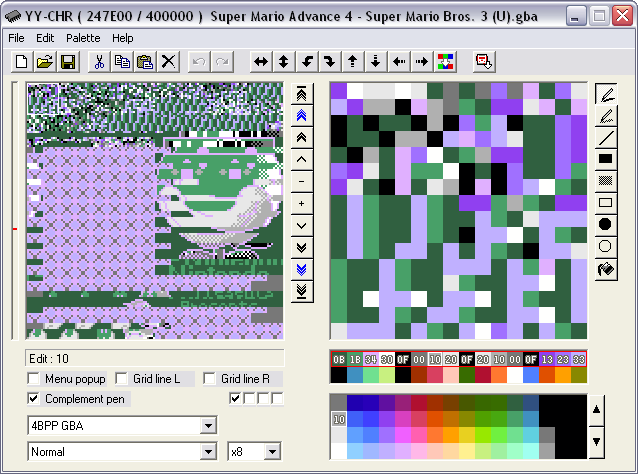 Luigison: You might be right. I loved the e-World levels and was very disappointed when they didn't release series 3 and 4. I hope they are somehow released for a new VC channel or as some sort of DS download.
Deezer: Oh man, that would be pretty cool. They could sell the e-Reader for like 1000 points and e-Cards for 100 points each or something. And then everyone could buy Mario Bros. again!
Lizard Dude: Yoshi is horrified by these recent developments.
Suffix: Oi! Those Europeans are trying to cancel out what I said earlier! I now face a brutal decision...
Yeah, I'll just forget I ever read this...
Chupperson Weird: Oh, what an excellent way to go about things.
Sapphira: It might be because he/she/it is a generic Birdo, not THE Birdo. You know, there were multiple ones in the first Strikers game. Many times if one's gender is unknown, he or she is referred to as "he"--as opposed to "it," because that objectifies one. Regardless, Nintendo is crazy with all this gender switching.
MEGAߥTE: Often when game publishers want to keep a character ambiguous, they'll not use pronouns at all.
Suffix: Frankly, I think it's just silly. Just... plain... silly. That being said, I don't think it will harm either company.
MEGAߥTE: Mario used to be in Brooklyn or at least New York City until the story was retroactively changed circa Yoshi's Island. It's not clear how Big Ape City factors into the story of Mario's early life.
As for the Olympics game, I don't know about "best" direction, but it's not a bad one. I'll reserve further judgment until I actually see game footage.

Discuss this mailbag in Fungi Forums
Got something you want us to answer next time? Send it in!