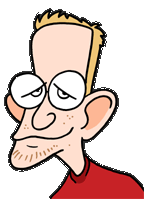 Deezer
Now with less fiber
---
MEGAߥTE
Biohazard
---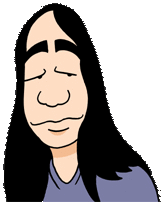 Chupperson
TIME UP !
Got something you want us to answer next time? Send it in!
Luigison: Umm. Don't jump on beds. Get a trampoline. Instead of a mere concussion you can also get a broken arm, crotch pinch, and a trip to the ER. If this is not an option you could install a ceiling fan, turn it on full speed, and then you wouldn't have to worry about hitting the ceiling.
Deezer: Easy solution: Remove the ceiling.
Super-Jesse: Install a ceiling fan, that way you hit the fan instead of the ceiling. You can even install a Mario one!
Suffix: I tried this with no outstanding results. I lined up the mushroom and coin, sure, but nothing extraordinary happened. Yoshi ate the coin, the mushroom disappeared, and it was the same old stomping around routine. I'm not going to stomp on your grand discovery, but I think perhaps you are luckier than I am.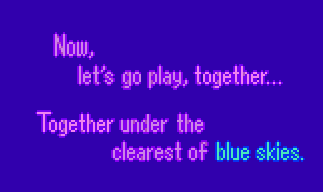 Luigison: Isn't it obvious that Nintendo wants you to turn off your TV and go outside and play. Or is it reverse psychology? Either way it has nothing to do with fairy power working when flowers bloom. My guess is someone at NOA just felt whimsical.
Deezer: (The Japanese version has something about fairy power working when flowers bloom.)
Suffix: I suppose they're just trying to remind you how nice the outdoors are before you become trapped in Tetris. I sure do enjoy the rhetoric of colored text.
Suffix: I am quite certain that you must beat the final boss in order to access the X-Naut's Base again. Good luck in your quest beyond the Thousand Year Door.
MEGAߥTE: 3. The Mario CD-i game was much better than the Zelda CD-i games. The movies were still fairly poorly animated, however.
Super-Jesse: I'll answer 1 and 2 for you: 1. I think the source of any "Anti-Nintendo" fan is the person just feeling betrayed by Nintendo's choices, or seeing an ad claiming Blast Processing and thinking that Nintendo isn't giving them what they want. The console wars have always been ugly, but I have to say the worst of them came in the days between Genesis and SNES.
Ironically, that's also considered the 'Golden Era' of gaming...
2. I didn't like Yoshi's Island DS. A site that I used to work on had me review it, and I gave it a 5/10. Artoon's first 'decent' game was probably Blinx: The Time Sweeper
but I don't know enough about them to make that call. However, this is just my personal opinion.
Chupperson Weird: I wouldn't say that's ironic at all. Competition makes for good products. Meanwhile, YIDS has its strengths, one of which is most certainly not its music, but I found myself utterly bored somewhere in world 3.
Luigison: I really enjoyed YIDS. To me it was almost as good as the SNES original and a lot better than Topsy Turvy. I thought the music was okay, but I don't have Chuppersons ears. The only real gripe I had with YIDS was poor level design towards the end. At least I'll blame my dieing by missing a landing on a tiny post while the screen scrolled on poor level design, and not some apparent lack of platforming ability on my part.
Chupperson Weird: Is it Nintendo's official strategy guide, or some other company's "official" guide?
Suffix: This particular tech demo showed us the Gamecube's superiority to the Nintendo 64 in a number of ways. 128 of the Mario models used in Super Mario 64 could be seen, interacting with each other and their environment. They also showed that the Gamecube was processing all of this at a smooth 60 frames per second, twice as fast as Super Mario 64's rate of display. Super Mario 128, indeed.
MEGAߥTE: Miyamoto has explained the Mario 128 experiment, which was made up of a number of parts. First, the Mario 128 tech demo, also known as 100 Marios, formed the basis of Pikmin, another game with a large number of similar characters. By the way, the Mario 128 models were actually more advanced than the Mario 64 model. The demo also explored shader effects such as toon shading used in The Legend of Zelda: The Wind Waker. It also explored gravity of a spherical world, which will come into play soon with Super Mario Galaxy. And the tech demo only used less than half of the GameCube's power.
Suffix: Tic tac toe...
You make a decent point, but I don't think any of those games' characters will make an appearance. I definitely don't think that anybody in Kingdom Hearts will be seen. But I do have good news! Shure makes some great canal and earphones.
Super-Jesse: I don't tend to speculate on character choices as anything is really possible at this point. Dante would be a cool addition though.
Chupperson Weird: Shure also makes good microphones. Anyway, it isn't like those composers have only done music from the games you list. Yasunori Mitsuda, for instance, has done Chrono Trigger, Chrono Cross, Xenogears, Xenosaga, Tsugunai, The Seventh Seal, Magic Pengel 2, Mario Party, and tons of other games. So just to have a famous composer arrange a Nintendo track for a game does in no way mean that characters from one of the many games that composer has written for will appear.
MEGAߥTE: Somebody requested that map in a previous mailbag, but here it is again.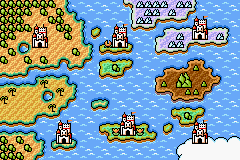 Chupperson Weird: I love you too, Sid.
Luigison: That reminded me of Deezer's code: "What once was lost, now is found. Or is it the other way around? Run to the end... Look to the sky... Don't try to jump, it's up way too high. Nine of us in all, unlocked by the sound." Oh, and I love you too.
Chupperson Weird: Every time I see this guy's name I see Ashton Kutcher.
Super-Jesse: "makes everyone watch my youtube videos and add me as a friend on myspace.
Luigison: "... political contributions should be limited in amount and only made by registered voters." "... abolishes the income tax and replaces it with the Fair Tax." And, "... an old law be revoked for every new law that is enacted."
Chupperson Weird: "...limits the amount of self-promotion one can perform."
Suffix: "...encourages college students to take up engineering." This would involve some sort of funding, unfortunately, which means colleges would take advantage of it in some evil way.
Super-Jesse: If Amazon.com is to be believed, the CD came out on December 3, 1991. With that in mind, we do need to update the page to reflect the release date, so thanks for keeping us fresh!