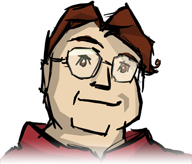 David Dayton
01010100
---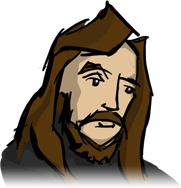 Chupperson
01001101
---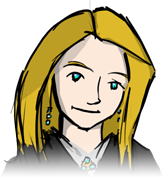 Sapphira
01001011
---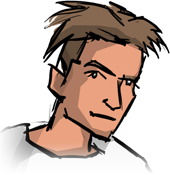 MEGAߥTE
0110100101110011
---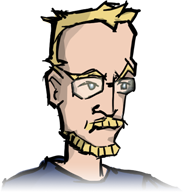 Deezer
00100011
---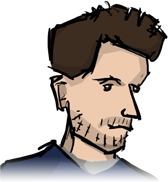 Luigison
00110001
---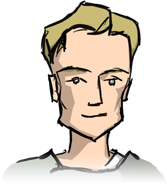 Suffix
00100001
Got something you want us to answer next time? Send it in!
David Dayton: Well, all you really need to do is collect the appropriate icons, images, and sounds. The icons are the hardest part, if you are trying to create them from scratch. I'm not sure if there are any freeware icon creation tools anymore.
David Dayton: Ah -- the ability to combine several e-mails into one. Such is the miracle of the computer age.
I don't recall ever telling people to send or not send anything.
Chupperson: You didn't. >:|
Sapphira: Using spell check is probably better than quickly getting to the point. Remember, kids, spell check is your friend!
BP: I like Bowser Jr.
MEGAߥTE: I got a hold of one of these manga recently, in particular, Super Mario World #3 by Kodansha. I wish I could read more of it because it looks full of humor, with things like Yoshi making Mario carry him. Luigi even dies. There appear to be two separate stories. The back is full of fan art, and there's a color insert with maps and guides to some of SMW's levels in the front. There's also a random page in the back with King Koopa from the US cartoon. His text bubble says "My name is American Koopa!"
MEGAߥTE: There is a lot of debug stuff left in GameCube games, but getting at it is a little more time-consuming than older games (David and I are the only ones with the proper equipment to capture the high resolution screens), so we haven't had a chance to add the information to the Lost Bytes section yet. Also, those Youtube narrators make me want to stab myself.
DavidDayton: I may have to dig out my Action Replay and try to get some images for you some time... that or try the "digging through the code" method, but MB is the guy for stuff like that.
Super-Jesse: I want green, water swimming Yoshi pals. Why would that have been so hard?
Sapphira: Me too. When it comes to Yoshis and water, I say Isle Delfino's water is cursed or something. Or the Delfino variety of Yoshis are cursed (and not green).
Luigison: Thanks for reviving my interest in the reason I bought a Game Cube, Super Mario Sunshine. I really want to play it again with "proper equipment" and my Action Reply, which hasn't seen any "action" since I play around with the test levels in Wind Waker. 1) I can't imagine why Nintendo wouldn't have include a creature pooping/birthing enemies considering all that they've done with Birdo. /s 2) Maybe the purple looked to dark. 4) Super-Jesse?!
Deezer: Yeah Luigison, SJ answered a loooong time ago.
DavidDayton: I kept wanting to snag a copy of that at some point, ages ago when they were clearing them out in old Nintendo Power backissue listings. Sadly, I never did.
DavidDayton: If you're not SUPER. Mario is super, not "big."
Deezer: Er, the second part was a quote from the site. I'm fixing some stuff on that guide as I type this.
DavidDayton: Hmm. Who -do- I use the most? Interesting question... at this point, I think it would be Toon Link. I should really go check my stats and determine that, though.
BP: Ness, Yoshi, Wario, Pikachu, Snake, Mr. Game & Watch, Captain Falcon, Ice Climbers, Squirtle, King Dedede, Link, Mario, Zelda, Toon Link... Pretty much everyone who isn't Lucario.
Sapphira: Whoa, Stardust Speedway at 0:47 does sound similar. The rest of the song, not really.
On a related note, I recently realized there's a striking similarity between the epilogue song from SMRPG and Pachebel's "Canon in D major", which is a common wedding (and Christmas) song. They pretty much have same harmony/chord progression.
Moving on... I'm best with Peach and use her the most. I'm probably second best with Mr. Game & Watch.
Suffix: I think both of these are similar in style, but the 0:47 in Stardust Speedway and the 0:39 in Wario City having similar rhythms and a descending melody is clearly coincidental. They aren't perfectly the same in any respect, and outside of that small part, they're not strikingly similar to me. Meanwhile, Sapph, those feel similar in pace, but...
Sapphira: Try humming SMRPG's melody to Canon in D. It totally works.
Suffix: Still, a striking similarity? Perhaps I've got tougher criterion, but a compatible melody is not a similar melody, discounting key and tempo. I need Chupperson's professional-sounding verdict!
Sapphira: I said the harmony was similar, not the melody.
MEGAߥTE: I use Pikachu the most/best, a tradition kept since the original Super Smash Bros. I play well with most of the characters, however.
DavidDayton: I like the Wii version of Twilight Princess. Super Mario Galaxy and New Super Mario Bros. Wii more than justify my purchase.
With regards to tacking on motion controls -- Metroid Prime Trilogy does an excellent job adding Wii controls to a GameCube title, and NPC Pikmin isn't bad. To be honest, there are relatively few Nintendo Wii titles I dislike due to Nintendo development groups tacking on controls. Yes, badly done wiggle controls are annoying, but those generally seem to come from the third parties...
BP: Twilight Princess is pretty lame, thanks to Midna. Here's hoping that Link's next Wii game doesn't feature an astoundingly impersonal cast and setting, all stolen by a giggling blue elf. The Wii is worth it though, for Punch-Out!!. There are other must-buys, like WarioWare... but if nothing else, there is Punch-Out!!.
Sapphira: Hmm, I'm still debating on whether to get Twilight Princess for Wii or GCN. Considering I tend to vastly prefer "classic"-style controls, and how much juice the Wiimote sucks up, I'm very much leaning toward GCN TP. Thoughts?
I think the reason Nintendo is "Wii-fying" old games is more for people who never played/don't have the GCN versions. Kind of a neat concept, but lazy.
Suffix: How jaded, Bird Person, how jaded! I can't say I don't think Midna's giggling isn't annoying (I assume those negatives even out), but there were a number of interesting characters in Twilight Princess, and the game itself was very enjoyable. Prospective buyers, allow me to assure you the game is worth your money-- even if it's still $45 or so.
Meanwhile, Sapphira, shooting arrows with the Wiimote is too fun to pass up. Also, get some sort of rechargeable battery thing. I had Nyko from the get-go, and they still have a decent battery life.
DavidDayton: I think I have one of those, somewhere.
Luigison: I have two.
DavidDayton: I think the airships will make a comeback. (6/10/09)
DavidDayton: Wow, aren't you impressed at my powers of prediction? (12/07/09)
Deezer: I predict that David will correctly predict that airships will make a comeback. (5/5/08)
Sapphira: I predict that Deezer will correctly predict stuff. (9/8/07)
Koopalings in NSMBW = WIN. Generic unnamed Toads = LAME. They should've at least had the Toad. Although I guess they kind of did, just not as a playable character. Regardless, they should've officially given the Blue and Yellow Toads real names.
Suffix: Not to crash this prediction party or anything, but it's worth recalling that Leslie Swan, who provided Peach's voice, was part of American localization team. The fact Peach's voice wasn't in the evidently unpolished version isn't just due to time constraints. That, folks, is your reason. Nowadays, Peach and her female lookalikes have actual voice actors, of course.
DavidDayton: Someone should make a list of all Nintendo-published titles with references to Jackie Chan in them.
Sapphira: I would say noko in "Nokohei" relates to it being a Koopa, not "unconcerned." Heh, I remember pointing out "Kurisutara" = Crystaller? to Deezer. Interestingly, lot of the names were actually translated differently than usual: "Reiho" (Greaper) is usually Boo Guy, "Tondariya" (Shy Away) is Beezo, "Patapata" (Sky Troopa) is Koopa Paratroopa, "Baburu" (Sparky) is Lava Bubble/Podoboo, "Mucho" (Spookum) is Snifit (whereas Booster's lackeys should be different), and "Doku Kinoko" (Bad Mushroom) is usually Poison Mushroom. Magikoopa (and Kamek) is normally "Kamekku" in Japanese, so "Kamezaado" might actually be a different character. This brainwashed Magikoopa is red in battle, while I think the normal blue Magikoopa was originally intended to be in the game as different enemy, which would explain the name difference. The Goby/Cheep-Cheep and Boo/Big Boo stuff is already in the J->E page. Maybe this stuff should be included, too? ;D
Here's some other interesting stuff: In Japanese, Mallow's Star Rain attack shares the same name as Paper Mario series' Shooting Star item: "Kirakira Otoshi." Same for Mallow's Shocker and PM's Thunder Rage: "Kaminari Dokkan." And Peach's Sleepy Time = PM's Sleepy Sheep: "Nemureyoikoyo." And Wilt Shroom = PM's Dried Shroom: "Shinabita Kinoko." But considering what the attacks/items do and how most of those consist of actual words, not made-up ones, they make sense.
Deezer: "Bomuhei" is more like Bomb Soldier. I'm just starting to work this translation into the Japanese to English specials.
MEGAߥTE: Some of those names are pretty clever since you really need to have English and Japanese knowledge to get them! Also, I can't wait for our Mariopedia to take into account international names.
Sapphira: Me neither. I also can't wait for it to be non-broken. O_o;
BP: I have a preordered Majora's Mask cart with the trippy, holography label. Walked into GameStop some years back and there it was. Other than that, I don't really have any rare games... except Banjo-Kazooie!
DavidDayton: I have to check on that... I know I have a few somewhat rare titles, not to mention the almost-complete Virtual Boy collection.
Sapphira: Hmm... The Legend of Zelda: Collector's Edition, I suppose. I also have the version of SSBM where Daisy has a third eye, but I don't know if that's rare or not. I bet MegaByte owns the rarest game(s) of all, though.
DavidDayton: Bowser fail English?
Suffix: Don't leave a single bit unbeaten.
BP: I'll notify the police immediately!
DavidDayton: The Mushroom Kingdom needs better first responders.
Sapphira: Someone killed a Blooper! Those monsters!
Suffix: Looks more Toad-shaped to me. I wonder why Goombella's pointing out "Grotski Town / Rogueport's plaza."
Sapphira: That's the area where the house is located. That house is a pop-up of sorts within the area, not an area in itself.
Luigison: Too bad the rest of the world can't handle such mature content in video games, or maybe it's just that everyone else knows that the Mushroom Kingdom police don't use chalk outlines at murder scenes. Besides, Mario games have taught me that people don't bleed or die. They simply fall out of view or pop out of existence.

Discuss this mailbag in Fungi Forums
Got something you want us to answer next time? Send it in!